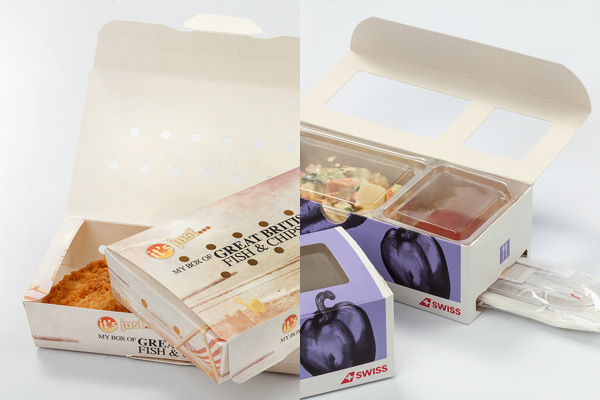 New catering and retailing concepts in the skies require new marketing concepts. And packaging which communicates well - such as cartons. Pro Carton looks at the new opportunities offered by airline marketing.
A long time ago, inflight meals were a means to pamper passengers. Today, the non-serving of meals has become a cost-saving measure. However, this is changing. Soon passengers will be empowered with choices, not only in terms of food. Advances in technology give airlines the opportunity to communicate extensively with their customers. An on-board meal is the most "intimate" marketing contact between airlines and their passengers. Passengers have plenty of time, and they look forward to a good meal as well as being entertained and kept busy. Some airlines have already discovered the unique opportunities open to marketing and communication, however, most airlines are simply doing little to nothing. In addition to meals, a variety of opportunities are available: entertainment, games, restaurant or theatre reservations at the destination, checking out sports events or cultural activities. On board the aircraft, passengers finally find the time to reflect on their trip and plan the days ahead. This creates a new business model for the airlines, and one which will become an important contribution to the overall package: a promising marketing approach with incomparable efficiency and numerous options:
1. Branding
Airlines can talk with their customers via the packaging of inflight meals, tell their story and convey their values. Petra Gold, Head of Customer Relations and Marketing at
Do & Co,
a leading provider of on-board catering (Emirates, Etihad, British Airways, Cathay Pacific, Turkish, Austrian, Finnair, Gulf Air) sees considerable potential here for packaging: brand presence and the communication of quality "are perfect candidates due to the surfaces available." Peter Hargreaves, Group Business Development Director of UK carton specialist
Alexir
, who supplies over 20 airlines or their caterers worldwide, is a strong believer in packaging: not only are we talking brand messages as well as quality and lifestyle, but also entertainment and information, including codes for offers on the Internet. All this can be communicated on board, possibly even in conjunction with a customised, pre-ordered meal.
2. Communication
Promotions, dialogue, competitions, quizzes, entertainment, information puzzles and many more ideas can create awareness for interesting products. For example, the US airline Delta already offers its passengers WiFi with free access to Amazon on domestic flights and receives a commission on sales. However, most airlines limit themselves to celebrating the quality of the food.
Alexir
developed an exemplary Fish & Chips carton: with highly appetising presentation and delightfully fresh content - due to extremely smart ventilation of the pack. This solution also won the Red Dot Award and reached the finals of the
Pro Carton ECMA Award
.
3. Logistics
Pre-ordering and all-in-one packaging (with different courses, salt, pepper and cutlery) simplifies service on board.
LSG Sky Chefs
and
Meier Verpackungen
 have developed a menu box for Swiss, which can do a lot more than simply wrap snacks - with a convenience factor that is difficult to beat: a single carton made of cartonboard contains everything you need for a small inflight meal. A separate drawer contains cutlery, napkin, condiments and a toothpick. Meier, too, reached the finals of the
Pro Carton ECMA Award
.
4. Sustainability
Airlines can also gain credit in terms ofsustainability with good packaging concepts, complete with recycling.
British Airways
was one of the first carriers to introduce waste separation. In 2015, some 1,250 tons of glass, plastic, cartonboard or aluminium cans were already disposed of separately or recycled. Walter Michelitsch of Meier Verpackungen: "The number of cartons for packaging is increasing, and no doubt the ecological aspect plays a role in addition to the design options. With cartons one simply has the feeling of better food quality." Gustaf Öholm, Manager Onboard Concepts at Scandinavian, on the reasons why Scandinavian opted for a carton: "One needs to take numerous factors into account for on-board meals. The packaging must weigh little, must present the foods well and be easy to handle. It needs to be opened easily and to deliver the desired quality from the kitchen to the passenger." And in the end the excellent graphic design options tipped Scandinavian's decision in favour of cartonboard. Roland Rex, President of Pro Carton: "Cartonboard - on its own or in combination with other materials - has tremendous potential in the skies: it is an environmentally friendly product which handles well due to its robust structure, is suitable for most foods, not only snacks, and offers a graphic surface like no other packaging. Cartons will certainly fit the future flow of communication on board perfectly: with references to offers by the airline, for entertainment or services." References:
www.airlinetrends.com
www.alexir.co.uk
britishairways.com
www.doco.com www.lsgskychefs.com
www.meierverpackungen.at
www.packworld.com
www.procarton.com
https://www.procarton.com/wp-content/uploads/2021/02/flightcatering_home.jpg
400
600
esterling@admin
https://www.procarton.com/wp-content/uploads/2021/12/logo-232.png
esterling@admin
2016-04-04 00:00:00
2021-11-05 18:32:03
Marketing high in the skies