The TICCIT educational programme has been welcomed into many schools and groups across Europe.  Photographs from those visits receive great publicity from local media.  We invite you to take a look at TICCIT In Action and to get involved in the programme.
The success of TICCIT relies on converters and cartonboard mills partnering with their local schools.
Please send your photos to ticcit@procarton.com so that we can add them to this gallery!
June 2022 – "Parque Bincentenario",  EL SALVADOR
On World Environment Day, SigmaQ participated in a community event at one of El Salvadors biggest forests with the purpose of teaching families about the importance of the forest.
March 2022 – Heidenheim, GERMANY
Edelmann Group visited Grundschule Reutenen, a German Primary School in Heidenheim.  Edelmann Group believes that education of young generations is crucial towards a more sustainable future.  That is why the Group participates in the TICCIT (Trees into Cartons, Cartons into Trees) educational programme developed by Pro Carton.
Edelmann organised this event for one of the local schools in Heidenheim to educate kids about trees, forests, paper making and carton making processes and of course recycling.  The photos say it all – happy faces of kids who just prepared a sapling in a carton to be planted at home with their families.
November 2021 – Igualada, SPAIN
Graphic Packaging's second TICCIT Activity of the month took place at Academia Igualada and Maristes Igualada where another 120 pupils learned about trees, recycling and paper.
November 2021 – Igualada, SPAIN
Graphic Packaging carried out the first TICCIT activity since the start of Covid, in Escola Ateneu Igualadi.  60 students took part in the TICCIT Activities.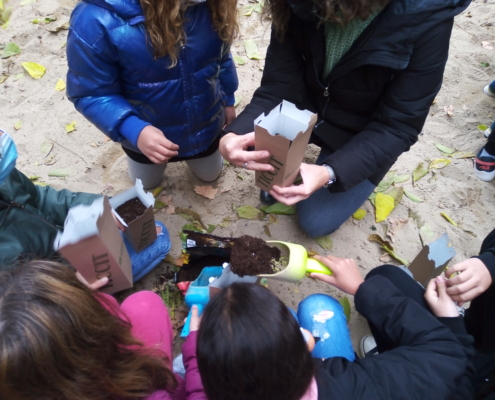 October 2021 – Heidenheim, GERMANY
Edelmann Group visited Bergschule Heidenheim, a German Primary School
October 2021 – Essen, GERMANY
The Christophorus School in Essen, Germany and the Bergische Kartonagenfabrik Fritz Niessen Company from Velbert co-operated on sustainability by running the TICCIT programme with year 3 and year 4 pupils and the teaching staff.
December 2019 – Istanbul, TURKEY
KASAD's (Karton Ambalaj Sanayicileri Derneği) first TICCIT Project was held in İstanbul Tuzla Yunus Emre Middle School on 23rd December 2019 with 280 5th year students. Teaching staff were given a plaque, certificates and gifts for their participation. 150 bay tree and 150 olive tree saplings were planted.
November 2019 – Maristes Igualada, SPAIN