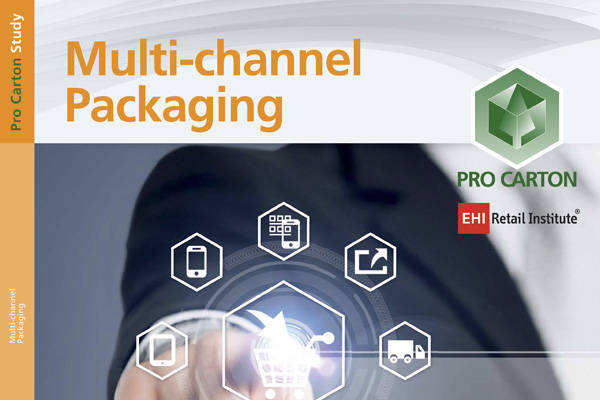 Multi-channel is changing retail structures – and this also affects packaging. As a consequence, Pro Carton commissioned the EHI Retail Institute to conduct the following study: "Multi-channel: requirements, trends and potentials for product packaging in E-Commerce". 80 per cent of the retail trade regard cartons as the packaging of choice. A synopsis in form of a brochure is available as of now from Pro Carton and is free of charge.
Of all the members in the Packaging Supply Chain, the retail trade is closest to consumers. It is the first to know which solutions are well accepted by customers. Continuous thought is already been given to the best use of digital options to build a new, perfect distribution system. The study was conducted among leading multi-channel retailers as well as brand owners and gives a first impression of the future between the retail trade and packaging. Cartons have tremendous potential: in response to the question, "Which product packaging meets the requirements for shipping especially well?", cartons clearly lead the ranking with 80 per cent. The interview responders listed the following key areas which are key for packaging in multi-channel distribution:
Display in online shop
Brand-adequate design of product packaging for distribution
Gift packaging
Shipping and returns
Mostly the retail trade wishes to avoid different packaging for the different sales channels. Nonetheless, the study shows that there is a demand for a number of innovative packaging solutions:
Customised packaging volumes
Attractive, brand-adequate designed gift packaging which can be handled efficiently and in a standardised manner
Packaging solutions which offer good protection for sensitive goods during transport
Product packaging that can also be used as packaging for shipping
Packaging solutions, intelligently designed, which are suitable for both B2B applications as well as for B2C applications.
Here is the comment of a multi-channel retailer concerning shipping: "The manufacturers as well as the trade need to rethink product packaging from previously only "B2B" to also "B2C". As a matter of principle the B2C function should be added to every product and thus have an effect on better product packaging. There is a lot work ahead for those involved in the Supply Chain …" The responders were generally of the opinion that cartons would meet these new challenges best:
360 degree display and clear graphic contours make cartons an excellent choice for display on the Internet.
Cartons provide equally good product protection over different sizes at low weight.
Next to classical gift wrapping, cartons are largely used for high quality gift packaging.
In terms of shape and strength it is therefore ideally suited for different sizes and offers opportunities for new, modular solutions.
The tasks for industry are clear: the careful development of new packaging, differentiated by product, which allows for new order quantities on the Internet as well as meeting visual and logistic challenges.
A brochure with all the important results is available below as PDF or in printed form free of charge from:
Suzanne E. McEwen, Pro Carton
mcewen@procarton.com
0043 676 4244 637
https://www.procarton.com/wp-content/uploads/2021/02/multichannel_cover_e_cut.jpg
400
600
esterling@admin
https://www.procarton.com/wp-content/uploads/2021/12/logo-232.png
esterling@admin
2015-05-11 00:00:00
2021-11-07 16:01:22
The retail trade wants cartons