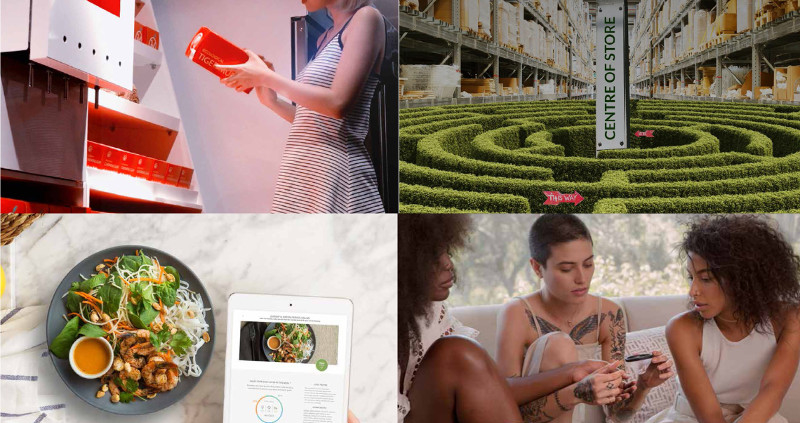 Annual Pro Carton Trends Report : Consumers have more power than ever before. They are also prepared to spend more money on genuine added value. "Pro Carton has compiled the most interesting comments from leading consumer, economy and packaging trend researchers relating to our business", says Pro Carton General Manager Tony Hitchin.
One of the most important target groups in the coming years will be made up by the Millenials born in the 1990s. Together with their higher purchasing power, they will be adding an entirely new digital experience and a change in lifestyle which will influence the majority of consumers. Conventional advertising will continue to lose in importance. This will be supplanted by the perfect communication – online as well as offline, in other words "URL" and "IRL" [In Real Life] – of interesting, tailor-made offers with fascinating, healthy and sustainable experiences.
1. Marketing: Transparency
"Brands and marketing are navigating an increasingly sophisticated consumer landscape where they are assessed on the nuances of their visual language, the diversity of their representation, 360-degree ethics and complete transparency", says Lucie Greene, Worldwide Director, The Innovation Group, J. Walter Thompson's trend forecasting, consultancy and innovation unit. The agency Trendwatching confirms this: "A revolution in transparency is just getting started. Today, a business is a glass box. Outsiders can easily see inside. They can see the people, the processes and the values. If something happens inside the box that will be of interest to those outside, eventually it will be seen. That shift is thanks to the radical transparency made possible by a connected world. And it brings with it an equally radical implication: your internal culture is becoming part of your brand."
2. Marketing: Feminine styles
Slogans like "Be the CEO your parents always wanted you to marry" or "Losing weight is not your life's purpose" increasingly add substance to the female perspective. Entrepreneurs are the new celebrities—and women are the fastest-growing group. According to a report by the Kauffman Foundation, 40.6 % of all new businesses are started by women. "BFF [Best Friends Forever] marketing" also speaks to the rising influence of social media's language, style and informality on commerce. "As more soothing pastels and soft edges move into the spotlight in 2018, packaging design is trending toward a more feminine overall aesthetic. As a result, we're likely to see fewer hyper-stimulating, explosive design styles more closely associated with masculinity in the coming years", writes Pamela Webber in the Packaging Digest.
3. Marketing: Silver Surfer
"That we are experiencing a demographic change in society is certainly not a new insight, nonetheless, packaging designed with elderly people in mind can be seen as a trend", points out Angela Hengsberger of Lead-Innovation-Management. Brand owners have discovered the growing importance of elderly people – also known as "Best Agers" or "Silver Surfers" – as a new target group. And there is already a wide range of products designed to meet the specific needs of elderly people, for example, in cosmetics. By 2040, roughly a third of all packaging will be purchased by senior citizens in Germany. Only a small part of today's packaging is designed adequately for elderly people, the fonts are too small, the contrasts difficult to distinguish, the opening flaps are too small, too much force is required to open packaging making handling difficult, and so on. If one considers that approximately 60 % of seniors complain about opening problems with "products sealed in plastic" this just shows that there is a considerable need for action by the industry.
4. Design: Sustainability
"In today's world, more people than ever are keen to be green. If your packaging is excessive or particularly damaging to the environment, you can be sure to turn a lot of customers off", says Paul Marsh from The Packaging Experts. "Making sure your packaging is as recyclable as possible is far more likely to win customers over and shows you're doing your bit for the planet." "Being able to add a compelling sustainability message can help rebuild the differentiation and brand equity that would otherwise be lost", adds packaging consultant Bob Lilienfeld. According to Cone Communications, 91 % of global consumers expect companies to operate responsibly and 71 % would pay for more sustainable products. Demand for sustainability, clean processing and sustainable sourcing is higher than it has ever been. Richard Parker, Principal Analyst at GlobalData, explains why people don't always act on that impulse to put something in the recycling bin. "Recycling really needs to be easy and quick. If it isn't for any reason, then it's easy for consumers to give it a miss."
5. Design: Embracing E-Commerce
It took them a while, but brands are finally starting to embrace e-commerce shoppers by adapting their packaging designs to better fit the online retail environment. That means: Removing detailed imagery (which becomes illegible at thumbnail size), making the brand logo the main image, introducing more sturdy and compact shapes as well as opting for temperature-resistant packaging materials. Products look different online than they do on a store shelf, and it's a different experience for customers to interact with a product for the first time by taking it out of a box, rather than picking it up in a store. When designing packaging to be viewed online, and transit packaging to be opened upon delivery in the home, the experience of e-commerce packaging must reflect consumer expectations from shopping with that brand in-store. David Luttenberger, Mintel's global packaging director: "The unboxing experience must really reflect what the consumers expect from their brands."
6. Design: Smart packaging
In the Internet of Things era, packaging has to be smart and connected. Intelligent packaging uses specific technology (such as sensors, devices, etc.) to share information with customers. Some packaging is now connected to a company's Cloud and provides consumers detailed information on a product such as allergens, portion sizing, consumption recommendations, etc. According to Mintel's packaging study, "50 % of US consumers are interested in scanning food packaging to learn more about the provenance of fresh produce". Food traceability and complete transparency has become more important than ever for consumers. In a recent article, Charles D. Yuska, President and CEO, PMMI (The Association for Packaging and Processing Technologies) said, "37 % of U.S. consumers find it important to understand ingredients on food labels while 91 % believe that products with recognisable ingredients are healthier".
7. Retail: Experience
"Customers are increasingly expecting retailers to link the online and offline worlds to create a seamless, intuitive customer experience that makes buying products quicker, easier and more enjoyable. Far from annihilating the brick-and-mortar retail sector, major e-commerce brands are revitalizing it through creative concepts that merge URL and IRL experiences in new ways", asserts The Innovation Group of JWT in its "Top 100" study. Consumers still enjoy the thrill of seeing, touching and engaging with a product. E-commerce brands are leading the way in merging the two in unique ways. Consumers are increasingly looking for new experiences. Vanessa Henry, Shopper Insight Manager IGD Retail: "The Millennials are more likely to try new products. Any innovation needs to stand out on shelf. Two thirds love trying new flavours, and they are looking for meaningful inspirations from stores in the future. More than 90 % want to know more about food and drink, and they want to find out about it online, on product packaging and in social media. And they want to learn about it in an engaging way: brands have a big role to play here."
8. Retail: Glocal
"More than ever, marketing global and local combine seamlessly. Trend globalisation is driving mass fragmentation, as consumers can establish networks and discover niche subjects, products and ideas way beyond their borders," say the experts from JWT Innovation Group. Despite shoppers being globally minded, the desire to have links to local regions and buy local products will increase over the next year. This approach will result in retailers selling produce that will only be available for a short period of time, due to seasonality, creating uniqueness and increased shopper desire to get these products when available. This will introduce greater variety for shoppers but create more complexity within the supply chain.
9. Retail: Convenience is King
Again to quote Vanessa Henry: "Shoppers are increasingly turning to online to do their grocery shopping, but this doesn't mean stores are dead! Physical stores are still crucial to meet shoppers' fickle food and grocery shopping needs! And in particular, convenience stores. Virtually all (90 %) of British grocery shoppers say they use convenience stores on a regular basis. I'm one of them, even though I do a lot of my grocery shopping online as well. 43 % of British grocery shoppers say they go to the nearest store to them even though they know it's a bit more expensive." Within the non-grocery category, achieving omnichannel proficiency is an even more significant priority for retailers as the role of the physical store changes to meet evolving shopper behaviour. These stores are becoming a place for experiential shopping while transaction-only purchases continue migrating online due to greater convenience.
10. Retail: Time is Money
"The millennials look at any opportunity to save time in store. We see much less use of larger stores for the millennials. They complain about excessive time spent in these larger stores", says Henry. So it's about communicating time-saving benefits. Millennials are more willing to spend extra to save time. Trendwatching goes even further: "Because in 2018, shoppers with more important things to do – and that's all of them – will embrace the outsourcing of certain retail experiences to algorithms and smart devices. That means the automation of hunting, negotiating, purchasing, delivery arrangements and more. As millions of consumers come to expect their online retail to be truly automated, they'll bring heightened expectations of convenience with them to your physical locations. In the end, this trend is about a shift that's about as deep as it gets: towards a world in which you'll be selling to algorithms as well as humans."
Sources:
go.euromonitor.com
www.thefuturelaboratory.com
www.gartner.com
igd.com
www.jwtintelligence.com
info.lead-innovation.com
www.mintel.com
www.packagingdigest.com
trendbuero.com
www.trendwatching.com
www.zukunftsinstitut.de
https://www.procarton.com/wp-content/uploads/2021/02/collall-home.jpg
600
800
esterling@admin
https://www.procarton.com/wp-content/uploads/2021/12/logo-232.png
esterling@admin
2018-03-13 00:00:00
2021-11-05 18:10:59
Trends 2018: Market and Packaging Intelligence