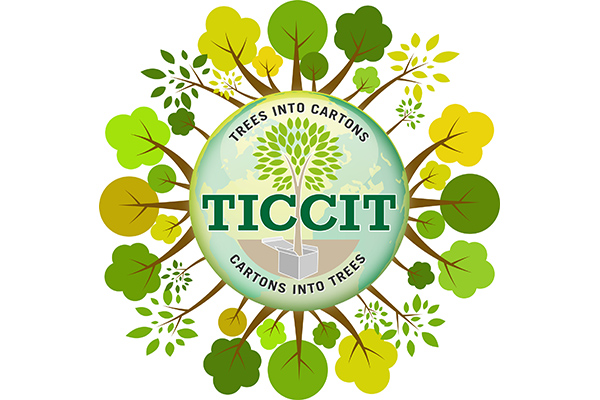 The TICCIT program (Trees Into Cartons Cartons Into Trees) teaches children that trees are a sustainable crop, just like fruit and vegetables. TICCIT highlights the many uses for trees and paper-based packaging, and it underscores the importance of recycling. 
Schools and educational facilities are open again across Europe so your TICCIT resources are undergoing an eye-catching update, making this is an ideal time to re-engage with your local community and the next generation through the TICCIT programme! So, why should my company get involved with TICCIT? Here's just some of the reasons:
It teaches and inspires the next generation about the importance of recycling and the sustainability of paper-based packaging.
It builds community by connecting children, families, teachers and businesses.
It supports our industry's reputation.
You make a difference by planting more trees.
It's low cost and can increase employee engagement - everyone enjoys it!
It can even take place outdoors!
FREE TICCIT resources are available to you in eight languages – Dutch, English, French, German, Italian, Polish, Spanish and Turkish. You can view an extensive gallery of images from those businesses who have already run the TICCIT programme in schools here:
https://www.procarton.com/sustainability/ticcit/ticcit-in-action-2/
Here are a few quotes from school visits: "
The kids loved getting their hands dirty and planting the sapling trees into the boxes with their fingers. The whole experience was very positive for them."
"The children really loved having the chance to learn all about trees and how they grow and develop. They enjoyed learning all about how paper comes from trees and were amazed at how trees can produce cardboard boxes! They were so proud of their trees and it was lovely to see them all so excited about showing their trees to their families."
"I have never seen them so engaged in something! A great learning experience for all involved."
Feedback from the companies running TICCIT has also been very positive. The staff that have made the presentations found it very rewarding and straightforward to organise and run. TICCIT has certainly caught the imagination of many people involved in the industry and will once again gain momentum in 2021 with a complete refresh of all TICCIT collateral. Now is the ideal PLANNING time so if you're not currently involved please do so – planting is ideal in the Autumn term. It's good for your company, your staff, your community and the planet!
The TICCIT programme takes a couple of hours to run in school, but the impact of it could last a lifetime!
For further information on TICCIT and to get involved, 
please click here
or contact Katie Ryan at
ticcit@procarton.com
.
Pro Carton was honoured to win the 2019 EPRC Information and Education award for TICCIT.
https://www.procarton.com/wp-content/uploads/2021/09/TICCIT-Logo-600.jpg
0
0
esterling@admin
https://www.procarton.com/wp-content/uploads/2021/12/logo-232.png
esterling@admin
2021-09-05 10:53:37
2021-11-08 12:18:22
AWARD-WINNING TICCIT ALL SET TO BLOOM AND REGROW!