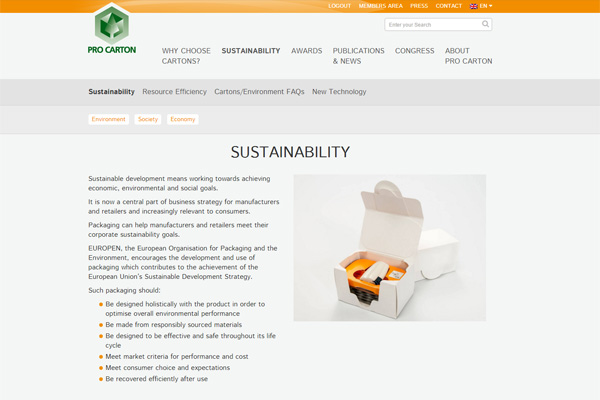 Have you visited the Sustainability section of the Pro Carton website yet? If not, perhaps because it has so far only been available in English. But today we are pleased to announce that the Sustainability section is now available in five languages : English, French, German, Italian and Spanish.
Please click >> HERE
Pro Carton's Sustainability website has 4 sections giving details about the environmental credentials of cartonboard packaging and its versatility.
Sustainability
Using cartons to package goods has many environmental advantages. This section gives details of cartonboard packaging's outstanding environmental performance in key areas such as Sustainable Forest Management, Carbon Footprint, Recovery and Recycling.
Resource Efficiency
Resource efficiency means using the Earth's limited resources in a sustainable way. This section describes the cartonboard packaging industry responsible resource usage for Raw Materials, Renewable Natural Resources and Water.
Cartons/Environment FAQs
This section is an easy way to find out answers to basic questions about cartonboard packaging and the environment, including sections on Sustainable Forests, Energy Use and Life Cycle Data.
New Technology
Consumer behaviour is changing as more consumers adopt a digital life-style. In this context, packaging plays a very important role in transmitting quality and brand values of a product, first on a screen and then at home when the physical product is delivered. This section shows how cartonboard packaging is the ideal medium for this role, by enabling intelligent packaging solutions which are creative and innovative, on a sustainable substrate. As the Sustainability section of the Pro Carton website covers such important topics in depth, Pro Carton is pleased to offer this valuable information as easily as possible to our supply chain and media partners around Europe through the translation of the whole of the Sustainability section of the Pro Carton website into five languages. The translated Sustainability section completes the translation of the whole website into five languages. Please click on this link to visit the Sustainability section:
www.procarton.com/Sustainability
For more information, please contact Jennifer Buhaenko, Head of Sustainability and Regulatory Affairs at
buhaenko@procarton.com
https://www.procarton.com/wp-content/uploads/2021/02/screen_sust_en.jpg
400
600
esterling@admin
https://www.procarton.com/wp-content/uploads/2021/12/logo-232.png
esterling@admin
2016-01-29 00:00:00
2021-11-07 15:59:30
Sustainability in five languages