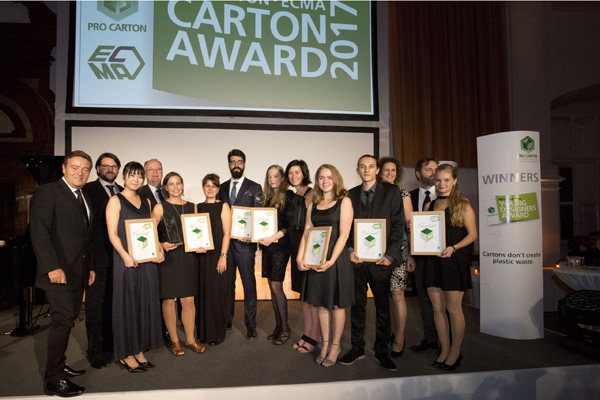 The Pro Carton Young Designers Award is becoming an integral part of the college curriculum with 46 design schools from 16 countries participating in the award scheme this year, more than twice as many as in the previous year.
Pro Carton invited all the finalists, together with their lecturers, to the ECMA Congress Gala dinner and Awards celebration held in Salzburg which certainly added a little youthful glamour to the event!
(>> Photos from the Award Gala)
The winner of the
Creative Cartonboard Packaging Award
went to Marie Falk, Lisa Dahlström and Henrik Bergqvist from Sweden for their
Alomia Nature's Elixir
– organic hair care pack, which tackled many of the problems presented by plastic packaging. The designers commented that: "The idea was to challenge today's packaging and to minimise the use of plastic, unnecessary outer packaging and wastage of product." The winner of the
Creative Cartonboard Ideas Award
went to Semih Arslan, from Turkey, for his
Dip & Eat Box
. It's a takeaway container for French fries or other snacks with an integral sauce compartment. The two containers sit in a single pack, which is delivered to store flat but can be erected with a gentle squeeze. Simple and very practical. The jury had a very hard job in selecting the winners, and indeed the finalists, as the quality of entries was so high. But the two winners are quite outstanding, and very different. "It was noticeable, that the entries gave even more attention to the marketing aspects than in previous years" stated the chairman of the jury, Satkar Gidda. "The participants had a strong focus on detail, particularly in terms of structural design. They had carried out extensive research into existing solutions and their designs made perfect use of the strengths of cartonboard as a material. And almost without exception, all entries paid tribute to the concept of sustainability." The jury was made up of the same personnel as for the Excellence Awards but with Tom Garsed, from sponsors GPI, replacing the lecturer Susanne Lippitsch who was excluded as some of her students had entered. Satkar Gidda (SiebertHead), Janet Shipton (Packknack and ex Design Director at MPS/Chesapeake), Lotte Krekels (Carrefour), Wilfried Duivenvoorden (Unilever) and Peter Klein Sprokkelhorst (technical consultant to the jury) made up the distinguished judging panel. The public voted Anna Kaufmann's
La Papp
as their favourite. Feedback from the teaching profession was also most enthusiastic. Timur Sebnem Ogut from the Istanbul Technical University commented: "This award is important for us, because the themes of the award enabled us to expand our students' horizons. It was a challenge for junior design students and fits perfectly to our educational objectives. The success will inspire other students as well, both in terms of developing their designs and also by the way they present their work in only few words and images." Gudi Schwienbacher from the Higher Graphic Teaching and Research Institute in Vienna concurred: "We think that international competitions such as this are the best challenge for our students for reaching their utmost creative performance in this early stage of their creative lives." The competition offers the winners something you simply cannot put a value on. Practical experience in the design department of a leading carton converter, a visit to a world class board mill as well as exposure to the captains of the carton industry. Tony Hitchin, General Manager of Pro Carton, was deeply impressed by the professionalism of the entries. "I was not expecting to see such a vast number of brilliant ideas and so well executed. Carton converters will do well to get in touch with these design schools to sign up some of these young designers to make sure they are not lost to another part of the packaging industry".
The Winners and Finalists
Winner Creative Cartonboard Packaging
Marie Falk, Lisa Dahlström, Henrik Bergqvist: Alomia Nature's Elixir – organic hair care. Hair care packaging in use today tends to be made from plastic. Also, it's often hard to get the dose right, resulting in overdosing. The Alomia pack has no plastic and delivers a perfect dose every time. The Jury's comment: an innovative idea, professionally executed, that will stand out on the shelf because of its impressive presentation of the product – with great branding potential. The concept is highly sustainable and shows a lot of in-depth work, a complete piece of work, totally, even holistically thought through.
The winners said "We wanted to think sustainability all the way from production, to use and recycling, to rule out plastic, but also to reduce the product waste. We thought a lot about the target market and how the world looks around us, to find a concept that would attract them." "This Award is a fantastic opportunity to meet new contacts and to learn more about carton solutions."
Winner Creative Cartonboard Ideas
Semih Arslan: Dip & Eat Box A takeaway carton for fried food or snacks – a new solution for consuming the food and sauce together. There are two containers in a single package, using minimum glue or other adhesives – important for manufacturing and using resources effectively. The product can be erected with one gentle move. The Jury's comment: ideal for festivals, this carton meets a need. It is very simple to execute. The jury loved it because of its pure cartonboard engineering – a professional solution that we'd not seen before.
Semih said: "I have set the packaging design business as my primary career goal, because I know that this aspect of the job is enjoyable for me. I also want to work with the best packaging companies in Europe, which I think would improve my skills and teach me different design perspectives. Therefore, receiving this Award means a great deal towards realising my dreams."
Winner Public Award
Anna Kaufmann: La Papp window blinds.
Anna said: "My aim was to reduce plastic materials in products and let them benefit from the flexibility of carton. Since they normally look all the same, I came up with the idea of redesigning lamella window blinds. It was possible to make a variety of individual designs with the help of printing machines and laser cutters, so that every window was given its final touch."
Finalists
Birgit Zuckerhut: Happinate
The idea was to take care of all the children out there who have always been scared of getting vaccinated. A cover for different syringes should distract children and give them a little smile, so that they stop thinking of any pain or any bad experiences with injections. The name "Happinate" is composed of the words "happy" and "vaccinate". That is exactly what the product stands for. The Jury's comment: a very innovative concept – a well disguised treatment. The "less is more"-concept opens a whole field of creativity.
Birgit commented: "As a designer I always challenge myself to create something to make someone's life easier. Since cartonboard is such a versatile material there were a lot of things I was thinking about. The key challenge was the question, how to distract kids from the actual shot." " I think the Pro Carton Young Designers Award is a great opportunity for me and my design to become known and maybe even to inspire others to think about improving their lives with cartons and to create new products out of cartonboard."
Emanuel Moser: Knickerboxers
A simple, functional and sustainable packaging for underwear that tells the consumer all they need to know about the product at first sight. Knickerboxers are a new, simple, sustainable and functional packaging for underpants. The carton holds two pairs of underpants and is folded into the specific form of the garments it contains. Cut-outs in the packaging immediately show the consumer what is important: colour, form and fabric of the content. A frame inside the carton holds the underpants in place and assures that they cannot slip out of the box. The simple, minimalistic design stands out and shows what you need to know at first sight. The Jury's comment: The construction perfectly matches the content and creates added value. The unisex branding delivers a premium presentation and is simply fun.
Emanuel added: "I wanted to create something simple, and tried to strip down the packaging to its essence: to show the consumer what they need to know about the product at the first sight. This is what good design should do: make our world a little less complicated. We can hardly buy products which are not packed in plastic. Sooner or later we have to find alternatives to that, therefore it is very encouraging to see that so many young designers work on creative ideas to tackle this issue."
Anna Kapi: Foodnook
A modernised eco-friendly birdfeeder, filled with sunflower seed. The assembly process is easy, all of the contents are included. It consists of a box and a string. By pulling the string at the marked part, the box transforms into a house to feed the birds. In this way you can easily feed your birds, cute! The Jury's comment: a neat concept for feeding birds with a notable reduction in material. Handling is intuitive, the carton transforms automatically. The construction could be used for multiple purposes.
Anna said: "This is a Do-It-Yourself product so you can create your own individual foodnook for the hungry birds in your garden. During the planning process, my main aim was to create a multiform box without using unnecessary materials."
Kaori Agematsu: Anytime with me
"Anytime with me" is a small portable pack for salt and pepper. It is very convenient whenever you need them for lunch, picnics and so on. You can use this pack by opening it like a match box in order to avoid spilling the contents in your bag by accident. The pack has a unique shape, like an hourglass. The Jury's comment: A good solution that can be taken anywhere and works really well.
Kaori commented: "This idea came from my own experience. I always take my lunchbox to school. Sometimes I need more flavour. Then I thought it would be a good idea if one could have a small portable pack and not a large pack like the ones you normally find at a supermarket." " This award is an opportunity to present our own ideas to the world. It is a great opportunity to review the usefulness of familiar materials like cartonboard. The success shows that my idea has been communicated to you. I'm so delighted."
https://www.procarton.com/wp-content/uploads/2021/02/Award2017_092_web.jpg
400
600
esterling@admin
https://www.procarton.com/wp-content/uploads/2021/12/logo-232.png
esterling@admin
2017-09-22 00:00:00
2021-11-05 18:28:54
PRO CARTON YOUNG DESIGNERS AWARD: TOMORROW'S EUROPEAN STARS