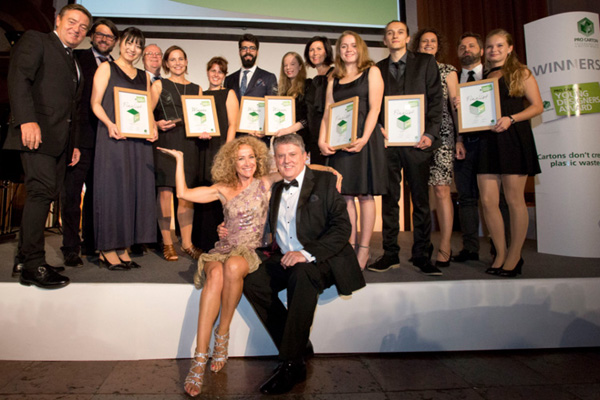 Young Designers – Share your Ideas!
The Pro Carton Young Designers Award has proved a successful step towards a top job in packaging design for several participants. The Award is now one of Europe's leading annual young talent competitions for packaging design. It also plays a pioneering role in promoting sustainability as it focuses exclusively on cartonboard design!
New for this year: there are more categories and there will be more winners plus more Finalists all of whom get to go to the Gala Dinner which this year is in Riga. Entries can be submitted across a number of areas such as:
Creative Cartonboard Packaging: Food & Drink – focusses on using cartonboard as the most sustainable food packaging material.
Creative Cartonboard Packaging: All Packaging excluding Food & Drink: all non-food packaging using cartonboard which is, of course, both renewable and recyclable.
Creative Cartonboard Ideas: Here's a chance for you to put forward your cartonboard ideas outside of the packaging market. Think outside the box!
Save the Planet: Every minute a truck load of plastics is dumped in the ocean. Show us your ideas as to how cartonboard can reduce or replace plastic and help us save the planet!
The main prize for the category winners is a visit to the
Metsä Board Mill
in Finland plus a practical training at the international carton producer 
Mayr-Melnhof Packaging
in Austria. All expenses paid! Furthermore, the finalists and each of their lecturers will be invited to the Gala Awards dinner and ceremony on 20th of September at the European Carton Makers Association (ECMA) Congress in Riga, Latvia. The European folding carton industry will be there for this networking event of the year! All expenses will be covered by Pro Carton - Travel costs, two nights in a luxury hotel, the elegant Award Gala dinner and even a budget for a night out in Riga! To get the picture,
take a look at the videos 2017!
Special Services for Design Schools and Universities
Pro Carton will be happy to support you with
>> Publications
 on cartons and cartonboard, and, above all, complimentary cartonboard for the design work providing a real hands on learning experience for the students. It is also possible to arrange for Pro Carton members to come to your school or university and hold workshops on the numerous options that cartonboard and cartons offer (design, technology, production, marketing …). Extensive information on the current competition is already available on our social media channels. Which means: follow, involve friends, like, share, comment and promote your own entries via
#pcyda18
! The public voting will again run in 2018, more details on that soon. This year's lucky voters selected from all those submitted were Rob van Wanrooy, from The Netherlands, and Lauri Jarvinen, from Finland, both of whom have already received their iPads as prizes!
https://www.procarton.com/wp-content/uploads/2021/02/pcyda-tv-6.jpg
400
600
esterling@admin
https://www.procarton.com/wp-content/uploads/2021/12/logo-232.png
esterling@admin
2017-12-14 00:00:00
2021-11-05 18:27:54
Design Awards now Open!