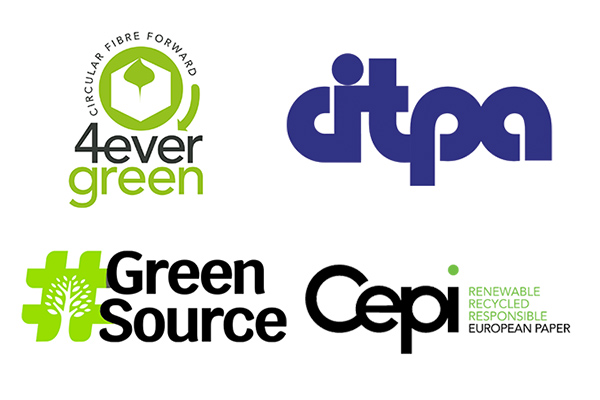 The "It's not all doom & gloom" article in this newsletter refers to unprecedented¹ global collective action and I believe that in 2020 the paper and forestry industry has also come together like never before.   Let me explain:
4evergreen
The 4evergreen initiative was formally launched to the outside world on 25
th
November 2020.  The alliance now has 54 members ranging from retailers to forest owners and includes several Pro Carton members.  Their vision is to perfect the circularity of fibre-based packaging to contribute to a climate neutral and sustainable society. There are four work streams that are currently underway:
The development of a standardised publicly available EU recyclability testing protocol
The development of guidelines giving detailed advice on packaging and material design with a special focus on ease of collection, sorting and recycling
The creation of guidelines on how to achieve the desired state for collection and sorting of all fibre based packaging based on recycling possibilities and compatibilities of different grades
The support of scientific research in material and process recycling innovation, emerging technologies in sorting & recycling and fundamental research on topics related to fibre circularity
Pro Carton, as a trade association, cannot be a member of 4evergreen, but I sit on the Industry Association Co-ordination committee which is regularly briefed by the 4Evergreen Program Director and advises 4evergreen on category specific issues.
GreenSource
Pro Carton has, along with EPIS (the European Pulp Industry Sector), become a
leader
in the work undertaken with Cepi on promoting the benefits of forest based products to EU politicians and policy makers.  The GreenSource initiative started earlier this year with Pro Carton confirming their backing in November.  In conjunction with Cepi and EPIS we have already appointed a new PR agency with whom we will start working in January.  Their brief is to create social media materials that educate about the industry and forest-fibre based products and to position the industry as an essential player to achieve the EU climate neutrality objectives.
CITPA
Although CITPA² is a forum mainly for associations representing converters within the paper based industry, Pro Carton is an active participant as an Associate member.  CITPA follows the key EU legislative developments and provides industry wide responses to the Commission and its various partners on issues affecting its members.  On CITPA's agenda at the moment are the following Green Deal policies, all of which are treated as high priority:
EU Climate law for climate neutrality by 2050                   
EU Industrial strategy   
New Circular Economy Action Plan            
Review of waste legislation (including SUPD)     
Farm to Fork strategy     
Chemicals strategy for sustainability
In addition, CITPA are following policy development of the Carbon border adjustment mechanism (Cepi responded to the Commission in November on this matter), the
new EU Forest strategy
and also
Deforestation-free value chains.
CITPA is also active on Product Safety matters (e.g. German Mineral Oil Ordinance) working alongside the Packaging Ink Joint Industry Task Force (PIJITF). Cepi, meanwhile, adopt a broader perspective representing the whole of the paper industry and similarly the co-operation and involvement of Pro Carton on relevant issues is now working well. Key correspondence from CITPA and Cepi can be found
on the Pro Carton website
.
PEF
Pro Carton along with CCB/FEFCO and CEPI-Eurokraft/Eurosac commissioned RISE to undertake a study to investigate how the current approaches applied for compiling the life cycle inventories and the carbon footprint of each sector comply with, or differ from, the requirements of the Product Environmental Footprint Category Rules (PEFCR) for Intermediate Paper Products. The background for this work is that we, along with the other participating associations, have for many years compiled a gate-to-gate life cycle inventory for our respective materials and packaging solutions. These life cycle inventories are used for completing sector life cycle studies and are also made available for external practitioners to make LCA studies (for example, via incorporation into the Ecoinvent database). In addition, the inventories are also used to calculate the carbon footprint for each sector. However, the European Commission has been working to develop and introduce a common method for quantifying the environmental impacts of products. It seems increasingly likely that this Product Environment Footprint (PEF) approach will become mandatory in some way when companies wish to make environmental claims about their products or materials. The study, which will be available to members in January, aims to identify any gaps in the current methods used, changes needed to future data collection activities and proposals as to how to ensure that the paper packaging industry's advantageous carbon footprint is fully recognised.
E-vent
Last but not least the 2020 Carton E-vent and Awards was a very visible exhibition of the close co-operation between ECMA and Pro Carton.  Our aim, as two organisations both representing the interests of carton and cartonboard manufacturers, is to complement each other (spelt with an e not an i!) and create a synergistic effect that represents our industry more broadly and more powerfully than either association could do on their own.   Both Mike Turner, MD of ECMA and I hope that our members agree that this is indeed the case!
Tony Hitchin, General Manager, Pro Carton
¹one of the words of the year along with lockdown! ²CITPA - International Confederation of Paper and Board Converters in Europe
https://www.procarton.com/wp-content/uploads/2021/02/logos-cooperations-600.jpg
400
600
esterling@admin
https://www.procarton.com/wp-content/uploads/2021/12/logo-232.png
esterling@admin
2020-12-16 00:00:00
2022-10-05 11:51:56
Co-operations and Collaborations