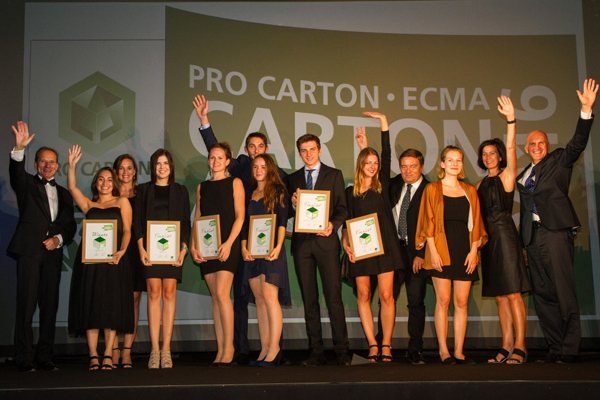 Start to the international "Pro Carton Young Designers Award 2017"
The Pro Carton Young Designers Award is one of the most important European awards for the design stars of tomorrow! The competition has been promoting professional recognition for young designers in the field of packaging for 15 years now and gives them exposure to leaders in the industry - a first step into the business world and a professional career.
"The Pro Carton Young Designers Award 2016 was so popular that we have decided to hold the Award every year. This allows us to encourage even more young talent. Wishing you every success with your entry!" Tony Hitchin, General Manager Pro Carton
Here's what one of last year's finalists had to say: "The Pro Carton Young Designers Award is a fantastic opportunity to meet great people from all over Europe from the Packaging and Carton industry". Isabel Laugerud Tabarini, Winner 2016
Indeed the teaching staff also recognise the benefits that the awards can bring: "The publicity in the press with regard to the award is extremely valuable and, as in my case – I was a winner myself in 2002 – heralded the start to a professional career." Susanne Lippitsch, Lecturer
As a result of its overwhelming success in 2016, in future the Pro Carton Young Designers Award will be held every year. This means that all design schools and universities can now include the Award as a regular element in their curriculum, offering students the huge opportunity to demonstrate their creative skills in a competitive environment! Entries can be submitted in two categories:
Creative Cartonboard Packaging Cartonboard is the most sustainable packaging material and, of course, fully recyclable.
Creative Cartonboard Ideas Here's a chance for you to put forward your cartonboard ideas outside of the packaging market. Last year's winner was a cartonboard bowtie!
Ideally you should submit physical 3D samples but illustrations or two dimensional layouts are also welcome. The main prize is one-week, expenses paid, practical training at 
Graphic Packaging International (Bardon, United Kingdom)
and a two-day visit to
Iggesund Paperboard (
Iggesund Paperboard, Iggesund, Sweden
). Furthermore, all finalists and their lecturers will be invited to the Gala Awards dinner and ceremony on 21st September 2017 in Salzburg – the city of Mozart and Red Bull! And of course, there will also be trophies, certificates and comprehensive marketing activities (
>> see images from the Gala 2016
). The winners and finalists will be presented to a broad professional audience by the Pro Carton E-News, as well as to the trade media. The results of the competition are published on the Pro Carton website and are featured at trade shows across Europe. Pro Carton offers lecturers a unique service: this includes
>> Publications
 on cartonboard, information material and, above all, cartonboard for the design work. On request and >> 
timely registration
, Pro Carton members will come to your school or university and hold workshops on the numerous options that cartonboard and cartons offer (design, technology, production, marketing …) As always, the jury consists of designers, brand owners, retailers as well as manufacturers of cartonboard and cartons. This ensures that the needs of the entire Supply Chain are taken into consideration.
Public voting – win an iPad Air!
Now the competition has closed, all designs that got through the qualifying round, are showcased on our voting page with photos and texts. In addition, all entries will be presented on our social media channels
Facebook
,
Twitter
,
Instagram
,
Pinterest
and
LinkedIn
 to a wide European audience. Everyone can >> 
vote for their favourite entries on www.procarton.com
 and decide who will win the Public Award. The design with the most votes will win an iPad Air. There will also be a prize draw among all voters for a further iPad Air. In its first year, Public Voting was a tremendous success, with 14,000 votes cast for the 2016 Public Award. Extensive information on the current competition is already available on our social media channels. Which means: follow, involve friends, like, share, comment and promote your own entries via
#pcyda17!
For further information:
Suzanne McEwen, Marketing Advisor, Pro Carton
https://www.procarton.com/wp-content/uploads/2021/02/2_bild-young-designers-award_s.jpg
400
600
esterling@admin
https://www.procarton.com/wp-content/uploads/2021/12/logo-232.png
esterling@admin
2017-02-14 00:00:00
2021-11-05 18:30:13
Are you a Star Designer of Tomorrow?