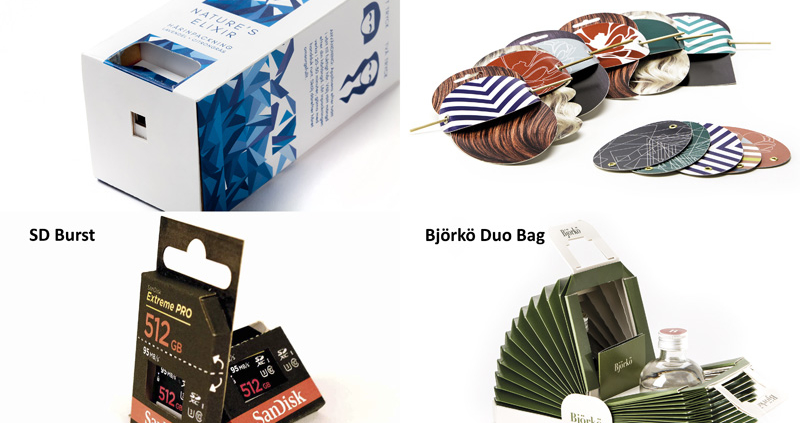 Pro Carton caught up with a few of the recent winners of the Young Designers award to find out what they are doing now.
Since we last met Lisa Dahlstrom (2017 winner with Nature's Elixir - organic hair care), she has moved to Berlin where she is a full time packaging designer at
Share
. Share is a unique organisation that supports the underprivileged. For every product they sell they donate an equivalent to a needy person. Her role involves product branding, creating designs for new products and perfecting existing designs so that the important messages are communicated clearly on all packaging. "There are a lot of restrictions about what can and cannot be put on packaging. Finding creative solutions is what drives me." After finishing her studies in packaging design at Brobygrafiska, Lisa moved from Stockholm to Berlin and firstly worked in a warehouse learning about the logistics and logical side of packaging and shipping e-commerce products before she landed her dream job. On winning the Pro Carton Award Lisa remembers "feeling great that the hard work on the project was appreciated. I really enjoyed getting to see how Iggesund and the Holmen group worked. Seeing the whole process from a tree being planted, to the finished paper product was super educational and inspiring. I have always been driven to improve the way we use our planet's resources, and the visit to Iggesund gave me a lot of great knowledge and opened up my mind to the benefits of paper packaging" ***** Christina Leurer – (2018 winner with UPDO hair accessory) completes her graphic design studies this summer and will then return to working full time for a winery where she is involved in marketing, photography and graphic design. Christina hopes to have the opportunity to apply her design skills to the packaging world soon: 'I have an outstanding Award - the Pro Carton Young Designer Award - under my belt. As a young designer who wants to build up a business, you have to stand out from the crowd. This Award draws attention to me' ***** Alexander Bohringer won the award in 2018 with SD Burst. His memories of winning the award - and the positive repercussions for his career - are still fresh in his mind – 'Being able to talk face to face with people from the cartonboard packaging industry was priceless – both at the awards and when visiting company sites. While visiting the headquarters and "production plants" of the PCYDA sponsors, I made some great contacts for internships. ***** Erika Svensson – (2018 winner with Björkö duo bag) - finished her Packaging design study at Brobygrafiska Sweden and went straight to her dream job working as a specialist at Boxon AB who deliver packaging concepts to business customers. Erika focuses on developing new or better solutions than the customer already has, so involves a lot of innovation and thinking. "I like to work with cartonboard, it is a fun material to develop attractive packaging with. It is stronger than you first think and you can easily find lots of ways to use it." 'The Pro Carton Young Designers Award prize helped me to understand how different countries stand on the environmental issue within packaging and also gave me exclusive insights into what different packaging solutions can look like. What I would say to students who are thinking of applying to the Pro Carton Young Designers Award is take the time to draw and test your entry many more times than you think is necessary. The competition is open to all and welcomes all kinds of cardboard related ideas. If you believe you have a half-crazy idea, what do you have to lose?' Go for it! Sound advice!
https://www.procarton.com/wp-content/uploads/2021/02/alle-vier-tv.jpg
533
800
esterling@admin
https://www.procarton.com/wp-content/uploads/2021/12/logo-232.png
esterling@admin
2019-07-02 00:00:00
2021-11-05 17:59:09
Where are they now?