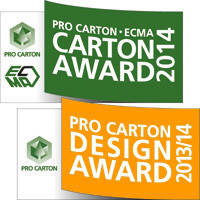 Cartons are not only attractive, they also have a lot to offer! To advance their development, the Pro Carton ECMA Award is presented annually by Pro Carton together with ECMA, the European Carton Makers Association. In addition Pro Carton runs a special competition, the Pro Carton Young Design Award, every two years to promote young talent. Participants from across Europe are welcome to join. The deadline for submissions to both awards is June 6th 2014.
Pro Carton ECMA Award 2014: www.procartonecmaaward.com
The Pro Carton ECMA Award will be awarded for the 18th time in 2014 and is the most prestigious European award for cartonboard packaging. It represents the most attractive and successful cartons which have entered the market new. All partners of the Supply Chain – cartonboard and carton industry, as well as designers, brand owners and the retail trade – are more than welcome to enter the competition.
The Pro Carton ECMA Award is the showcase which presents the best carton packaging from the whole of Europe. Response to the competition is growing year by year, as documented on the websitewww.procartonecmaaward.com and numerous European press reports.
International Pro Carton Young Design Award 2014:www.procartondesignaward.com
The International Pro Carton Design Award honours new, as yet not realised design ideas in the field of cartonboard throughout the whole of Europe and is addressed to students. Participation is free of charge. The winners from each category will be invited to spend a week at a European packaging design agency and training in a leading cartonboard or carton company.
Award ceremony in Sorrento near Naples
The award ceremony will be held at the EMCA Pro Carton Congress 2014 in Sorrento, Italy, on Thursday 18. September 2014 – all finalists of the Pro Carton Young Design Awards and their teachers are cordially invited.
Members of the jury represent the entire Supply Chain
The jury is made up of members from all areas of the Supply Chain: Satkar Gidda, SiebertHead (Marketing Design, chairman of the jury), Stan Akkermans, Mars (Brands), Marco Atzberger, EHI Institute (Retail), Martin Luh, Nestlé (Brands) and Peter Klein Sprokkelhorst (consultant to the jury) make up the jury of the Pro Carton ECMA Award. For the Pro Carton Young Design Award, Geert Verlinden from Van Genechten Packaging takes the place of Marco Atzberger.
Submit now (deadline 6. June 2014) and attend the ECMA Pro Carton Congress from 17. to 20. September in Sorrento. You can look forward to a festive evening with the award ceremony as well as all the latest news on packaging plus plenty of opportunities for networking.
 Information and submission of entries www.procartonecmaaward.com www.procartondesignaward.com
 Information and registration for the congress: www.ecmaprocartoncongress.com
https://www.procarton.com/wp-content/uploads/2021/02/logo_combination_design_awards_k1.jpg
200
200
esterling@admin
https://www.procarton.com/wp-content/uploads/2021/12/logo-232.png
esterling@admin
2014-04-29 00:00:00
2021-11-07 16:03:58
Submit now: Pro Carton ECMA Award and Pro Carton Young Design Award