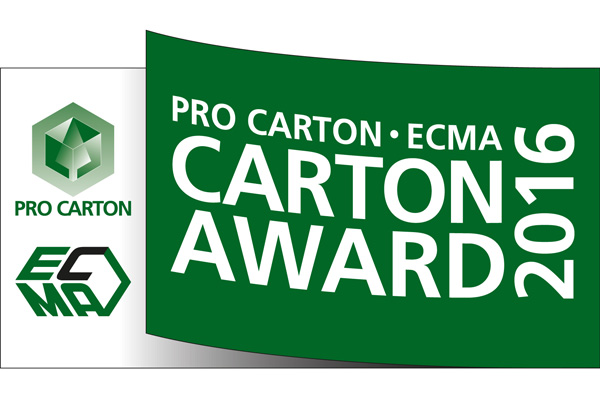 This year, the Pro Carton ECMA Award celebrates its 20th anniversary. Submission details and entry forms are now available online. During the past 20 years, this widely acclaimed competition has become the most prestigious European prize for cartonboard packaging. All partners in the Supply Chain -the cartonboard and carton industry, as well as designers, brand owners and the retail trade - should participate: Register online at www.procarton.com. Deadline for entries is 19 May 2016.
The best carton packaging from across Europe is presented at the Pro Carton ECMA Award. The competition showcases the most attractive and successful cartons which have entered the market over the past three years. As in previous years, the jury comes from all areas of the Packaging Supply Chain. Last year a fifth jury member joined the team: in addition to the chair, Satkar Gidda (SiebertHead, Marketing & Design), joining the jurors Wilfried Duivenvoorden (Unilever), Lotte Krekels (Carrefour Belgium) and Suzanne Lippitsch (Design), this year is Peter Strahlemann from the magazine "New Business". Peter Klein Sprokkelhorst continues to provide professional advice to the jury. An extensive PR and Marketing Package will ensure extensive media response and provide all participants with excellent materials for their own presentations:
Announcement of finalists on www.procarton.com in August 2016
Prize ceremony at the Award-Gala of the ECMA Congress on 15 September 2016 in Antibes
High-quality photos of all entries for public relations
Videos of the jury sessions in every category E-News to over 12,000 European contacts: brand owners, the retail trade and designers
Press releases to all important media for the Packaging Supply Chain all over Europe
Publication on the websites www.procarton.com and www.ecma.org
Award brochure with all award winners, finalists and entrants, printed in English (all award winners with success story and the jury's comments, all finalists with brief description)
Publications of all news and the Award brochure on www.procarton.com in five languages: English, French, Italian, German and Spanish
Awards for the winners and certificates for the finalists
The award-winning packaging will also go on tour to all the important packaging events throughout Europe.
The prizes will be awarded at the Award Gala on 15 September as part of the ECMA Congress in Antibes, France.
We would be pleased to answer any questions:
Pro Carton, Suzanne E. McEwen
mcewen@procarton.com
Submission details (PDF) and online entry at www.procarton.com
Submission as of now, entry deadline 19 May 2016
Announcement of finalists August 2016 auf www.procarton.com
All details concerning the award and the winners of the past two decades can be found at www.procarton.com / Awards
https://www.procarton.com/wp-content/uploads/2021/02/Pro-Carton-ECMA-AWARD-2016_home.jpg
400
600
esterling@admin
https://www.procarton.com/wp-content/uploads/2021/12/logo-232.png
esterling@admin
2016-02-24 00:00:00
2021-11-07 15:59:23
Submit entries now: Pro Carton ECMA Award 2016