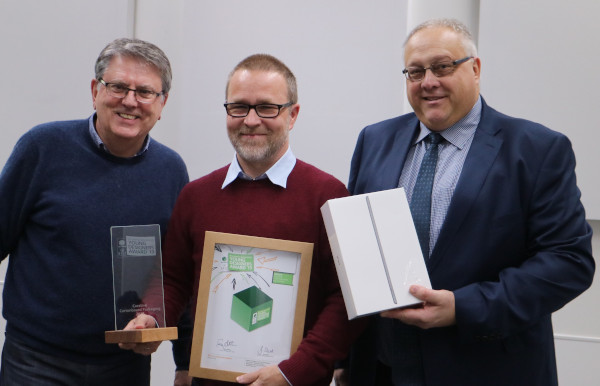 The winner of a national design competition – run by Pro Carton and its UK counterpart, BPIF Cartons – that promotes young talent in the packaging industry, has been revealed as Ravensbourne University student, Dariusz Kowalczyk.
Each year, Pro Carton, the European association of Carton and Cartonboard manufacturers, challenges designers to develop an innovative packaging concept using cartonboard. The winner of this year's UK Young Designers Award, Dariusz Kowalczyk, picked up the coveted prize of a brand-new iPad for his 'Big Yellow Driving School' car toy packaging designed to incorporate the cartonboard packaging as part of the toy thus extending its life before it is then recycled. A survey carried out by Pro Carton revealed an increasing number of consumers are becoming more environmentally conscious with 75% stating the sustainability of packaging influences their purchasing decisions, with 89% of UK consumers saying they would choose to shop at a retailer that was pro-actively encouraging more environmentally-friendly packaging. The market for sustainable packaging is growing, leading to a demand for innovative recyclable cartonboard packaging concepts. Dariusz' winning entry focused on creating a cartonboard box that opens to reveal itself as a playable component. Speaking about his design, he said: "the majority of children's toys are wrapped excessively with single-use plastic, which causes frustration as not only is this detrimental to the environment, but sharp tools are often necessary to open the pack. This inspired me to create a sustainable alternative, which is easily opened and not destined for landfill." The award was presented by Tony Hitchin, General Manager of Pro Carton, and Paul Woollett, Membership and Training Manager of BPIF Cartons, at an award ceremony at Ravensbourne University – a London-based university that specialises in design and media – on 20 November 2019. The Pro Carton Young Designers Award is one of Europe's leading annual young talent competitions for packaging design. It also plays a pioneering role in promoting sustainability as it focuses exclusively on cartonboard design, a material that is truly sustainable being renewable, recyclable and biodegradable. Tony Hitchin, General Manager of Pro Carton added: "The UK Young Designers Award is a positive initiative that reaches out to some of the UK's most creative young thinkers who share Pro Carton's values and aims of protecting the environment through cartonboard packaging. We were delighted to receive so many innovative entries this year, but Dariusz' design truly captured the 5 R's of responsibility that we feel so strongly about; reduce, renew, replace, reuse, and recycle. We hope even more universities and colleges will get involved in 2020." For more information and details of how to enter the Young Designer Awards please visit the
Pro Carton pcyda2020 website.
https://www.procarton.com/wp-content/uploads/2021/02/uk-yda-600.jpg
386
600
esterling@admin
https://www.procarton.com/wp-content/uploads/2021/12/logo-232.png
esterling@admin
2019-12-11 00:00:00
2021-11-05 18:03:37
Ravensbourne University Student, Dariusz Kowalczyk, announced as winner of National Packaging Design Competition