2021-09-06
El premio Pro Carton Student Video Award desafía a los estudiantes a crear un video corto e imaginativo que explora las ventajas de usar cajas de cartón o cartulina. En su segundo año, Pro Carton recibió más del doble de entradas en comparación con su año inaugural provenientes de estudiantes de 38 universidades en 17 países europeos.
El jurado, compuesto por un productor de cine internacional, un ejecutivo de publicidad senior y el Gerente General de Pro Carton, quedó especialmente impresionado con el significativo avance con respecto al año anterior, tanto en términos de cantidad como de calidad, de las entradas. Después de mucho debate, se decidió que tres películas serían declaradas ganadoras conjuntas. Dejando de lado la cantidad de esfuerzo y el pensamiento que se invirtió en las ideas, Pro Carton decidió aumentar el fondo de premios de los 5000 € originales a 7000 €. Cada uno de los tres creadores de videos ganadores recibirá 2000 € y se entregarán 500 € adicionales a los dos videos altamente elogiados.
Y los ganadores son:
"Carton Boat" de Isa Mutevelic de Austria. El miembro del jurado, Simon Bolton, comentó: "Es un enfoque valiente: estableció el argumento extremadamente bien y luego pasó a demostrar que el cartón es más fuerte y más fácil de enviar de lo que todos creemos. Fue una comunicación bellamente juzgada e incluso quedamos impresionados con la marca del barco ".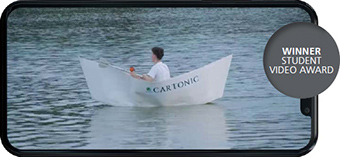 "Packaging For A Better World" de Eve Pitt del Reino Unido. El productor de cine y juez, Bady Minck dijo: "Un escenario casi parecido a Harry Potter que atrae al espectador a la historia y lo lleva a un viaje misterioso. Exalta claramente los valores del cartón, pero lo hace de una manera especial que lleva al espectador de un lugar pequeño a ver finalmente un mundo más grande, 90 segundos después."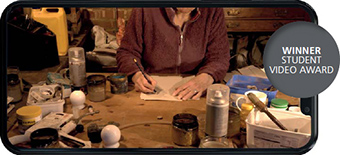 "Opticarton. The vision outside the box" de Silvia Baldo y Olimpia Bonvecchio de Italia. Tony Hitchin declaró: "Un video muy original que agudiza nuestra percepción y nos da nuevas ideas. Es hermoso cómo este video usa la realidad virtual para ver partes de nuestra vida cotidiana y, al ver las cosas con mayor claridad, volver a visualizar nuestras acciones diarias de muchas maneras más inteligentes y sostenibles ".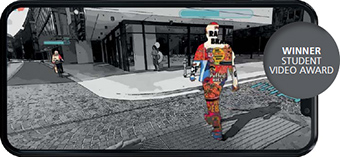 "Highly Commended"
El jurado también decidió que otros dos trabajos deben ser declarados altamente recomendados: "Make Change" de Cristina Lytvynenko de España y "Welcome to Earth" de Turkay Kayadelen del Reino Unido, y cada una recibirá 500 €.
Además, los jueces quisieron reconocer seis entradas más que "elogiaron" y recibirán certificados enmarcados.
A World of Carton por Marlena Stolze, Victoria Lauda, Sophie Gollegger
A Recycle Story por Jonnie Harris
A Little Cardboard por Judit López
Crafting for a Better World por Marie-Claire Karner, Mailin Lietmeyer, Cheyenne Heyder
Think Differently por Emma Fredslund Larsen, Nanna Gaustadnes Duelund, Louise Sønderby Hilsberg, Sophia Mai Horup, Ane Bæk Rose
Why use plastic? por Luiza Mendes, Marie Rückert, Lisa Marie Schneider, Anabel Faust
---
Pro Carton members, patrons, partners