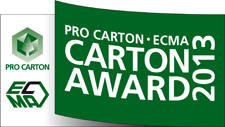 22nd August 2013 / www.procarton.com
Pro Carton/ECMA Award 2013 – the finalists!
The 17. Pro Carton/ECMA Award has been an outstanding success: The interest in new ideas in the fields of cartonboard and cartons has increased significantly, as indicated by the growing number of entries: nearly a third of companies have participated for the first time – we have never had that many newcomers for our Award. On 19 September, the award winners will be presented at the ECMA Congress in Dubrovnik. Who are your favourites?
For download in print quality, please click on the photo.
A major contributing factor to the success of the Award has been the excellent work by the jury. For Pro Carton it is important that all partners in the Packaging Supply Chain are represented on the jury: the entries must be judged by experts who take sustainable decisions in practice. As previously, Satkar Gidda from SiebertHead chaired the jury. His forte is design, and he is ably supported by representatives of large brands and a renowned retailer. Wilfried Duivenvoorden from Unilever and Anne Harding from Marks & Spencer joined the jury for the first time, for Stan Akkermans from Mars it was his second time. And as always, Peter Klein Sprokkelhorst put the technical intricacies of the entries into perspective. Here is an overview of the finalists in the eight main categories, from which the category winners an the "Carton of the Year" and the Awards "Most Innovative" and "Sustainability" will be picked. Images and brief information on all finalists is available at www.procartonecmaaward.com: Beauty & Cosmetics Persuasive beauty: Box Femme Fatale eau de parfum Beauty in seconds: Endocare One Second More turnover: promotion ampoule Powerful impulse: Skin Experts by Judith Williams Cosmetics Beverages Emotional intelligence: Biercée Gin Shining example: Illuminated packaging for "Bombay Sapphire" Twinkling diamond: Twinkle Box Sex Appeal: Venus Bag Confectionery Enjoy together: ChocOlé Perfect harmony: Hofbauer Marc de Schlumberger Trüffel Perfectly rounded: Manner Easter Egg Refined craftsmanship: Nut Box Natural noblesse: Sustainable Chocolate Box Dark temptation: Travel Trade series

Pharma

Distinguished clarity: Basica® Intensiv-Kur Strength with cartonboard: Boost Buddy Form and function: Duphafral Cost-effective and child-proof: Nicorette Pandora Box

Shelf Ready

Powerful stimulus: CODE VLM – Volumising Lengthening Mascara Pictures of an exhibition: Coverit Samples Display

Food

Appetising packaging: Côté Sushi Sustainable souvenir: Marenda Box The party carton: Packaging Lovely Cookies Subtle and classic: Tilda Vintage Basmati Rice 500 g

Non-Food

Sustainable grip: Deltaclip International B.V. New gun: Sealantgun Perfect fit: Sloggi Men Match Blue stimulus: Totally Wicked Odyssey™ Puristic polish: Victorinox Gift Box

Volume Market

Less is (much) more: Kleenex "Slim" Pack for Facial Tissues Clever seducer: Playboy VIP, for him, for her Vital dynamics: Puma Sync 11 for her, for him Marketing power: Special. T Capsule Tray Most impressive this year, were the numerous coherent concepts for the Point of Sale. Chairman of the jury, Satkar Gidda: "We saw total integrated thinking such as carrying the product characteristics through onto the packaging which serves perfectly to help communicate the brand values and brand qualities. It demonstrated thinking beyond just packaging of a product. It's this level of holistic branding that really shows what cartons can do for brands." A comprehensive PR and marketing package ensures that a host of European media will report on the award winners and finalists. The concept is rolled out at a European level, the tools are available to all award winners and finalists to support their own marketing. The award-winning packaging and the finalists be on tour again - as part of a road show to various trade fairs and events throughout Europe. In 2014 they will be presented at the Interpack.

Tell us your personal favourites: just send an E-mail to mcewen@procarton.com. Three originals of the "Carton of the Year" with content will be drawn as prizes from all correct entries!

The finalists are currently documented on the Pro Carton/ECMA Awards website (www.procartonecmaaward.com), and after 19 September, the winners: with short videos and discussions of the jury on the individual categories, with print-ready photos, comments by the jury and success stories.

Beauty

Beauty

Beverages

Confectionery

Confectionery

Food

Non-Food

Non-Food

Pharma

Shelf Ready

Volume Markets

Beauty

Beauty

Beverages

Confectionery

Confectionery

Food

Non-Food

Non-Food

Pharma

Shelf Ready

Volume Markets

Beauty

Beverages

Confectionery

Confectionery

Food

Food

Non-Food

Pharma: Basica®

Pharma

Volume Markets

Volume Markets

Suzanne McEwen +43 1 218 6918 mcewen@procarton.com
Pro Carton is the European Association of Carton and Cartonboard manufacturers. Its main purpose is to promote the use of cartons and cartonboard to brand owners, the trade as well as designers, the media and politicians as an economically and ecologically balanced packaging medium.
https://www.procarton.com/wp-content/uploads/2021/02/2013_ecma_logo_web1.jpg
127
225
esterling@admin
https://www.procarton.com/wp-content/uploads/2021/12/logo-232.png
esterling@admin
2013-08-22 00:00:00
2021-11-07 16:27:56
Pro Carton/ECMA Award 2013