2020-09-18
18.09.2020
Pro Carton are running a half page advert in The Future of Packaging supplement in The Times newspaper and a full page advertisement in the Sustainable Packaging supplement to be featured in The Guardian newspaper on Friday 18th September.
The Guardian has a readership of over 500,000 people including 40,000 C-suite readers.
The Times has a reach of over 1.5 million people and is the leading "quality" newspaper in the UK.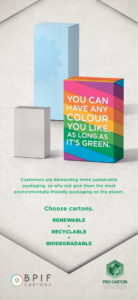 ---
Pro Carton members, patrons, partners