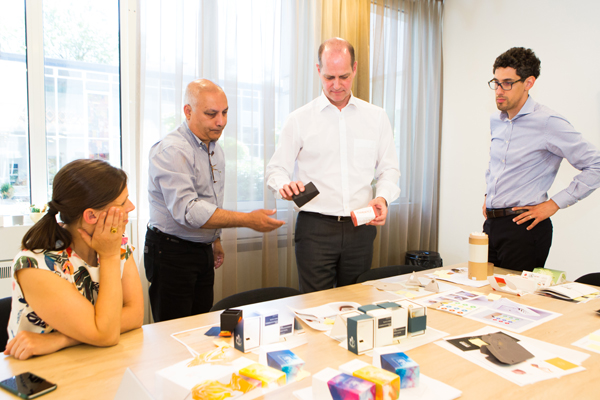 The number of entries to the Pro Carton Young Designers Award (#pcyda) more than doubled this year with over 400 entries being received from 20 countries with more than 50 design schools and universities taking part.  
The finalists and the overall winners will receive their awards at the Award Gala on 20th September at the European Carton Makers Association (ECMA) Congress in Riga/Latvia.
Not only are the 10 finalists invited to the Award Gala but their tutors are invited too, to see who will claim the 4 main prizes. Here's what the judges had to say after the meeting:
Commented Satkar Gidda from the international brand and packaging design consultancy SiebertHead and chairman of the jury: "There is something quite joyous about seeing a carton concept or construction that you never thought could be used in a particular way. The easy way to put that is to say 'not seen that before' and whilst there were several of these, it was also evident that some students had identified a need or a specific problem and had created something to address that."
Lotte Krekels from Carrefour, Belgium: "I think the entries were at really high level this year and there were already many packs that were ready to be put on the shelves. So it was quite difficult work for us this year. It was quite impressive what the students did."
New to the jury for 2018 were Andrea Bottan, from Nestlé, and Philipp Freymüller, Business Unit Director of Mayr-Melnhof Packaging International:
Andrea Bottan: "It was impressive for me to see such a variety of concepts and ideas which triggered a lot of discussions. It is good to see how much effort the students are putting into developing these new ideas."
Philipp Freymüller: "I was impressed by the sheer number of entries, it was really amazing to see the different concepts and the innovations. I have never seen some of these types of products in store. I can only say I congratulate the award scheme for what is a huge success. Hopefully it is going to continue like this in the future."
The jury has selected a shortlist of 24 designs for the Public Award with voting opening at the beginning of July at
www.procarton.com
.
The start of a great career
The main prize for the four category winners is a visit to the Metsä Board Mill in Finland as well as practical training at the international carton producer Mayr-Melnhof Packaging in Austria. The competition gives young designers exposure to leaders in the industry – a first step into the business world and a professional career. The PCYDA is now part of the fixed curriculum in many universities and colleges, which is reflected in the growth in the number of institutions taking part.
National Awards
In addition to the main European Awards the jury were also asked to select winners of three national awards.  It will be the first year that an award has been made specifically to students studying in Germany, whilst this was the second time that the UK award has operated whereas the Austrian competition is well established and has been run very successfully for several years.
Vote for your favourites!
But first it is your turn: the Public Award voting starts at the beginning of July. Take a look and vote for your favourites, share them and inspire friends and colleagues. An iPad Air will be raffled off amongst all those who vote. Plenty of interesting information is already available on our social media channels via #pcyda18!
https://www.procarton.com/wp-content/uploads/2021/02/pcyda-tv-1.jpg
400
600
esterling@admin
https://www.procarton.com/wp-content/uploads/2021/12/logo-232.png
esterling@admin
2018-06-15 00:00:00
2021-11-05 18:10:30
#pcyda: A record number of entries!