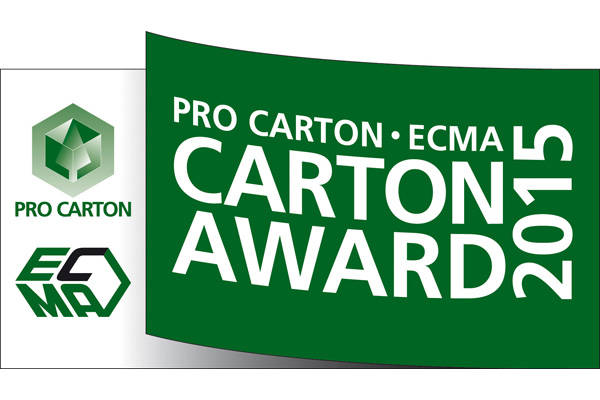 The call for entries to Europe's leading award for cartonboard packaging has opened as of now. All partners in the Supply Chain – cartonboard and carton industry, as well as designers, brand owners and the retail trade are cordially invited to participate: at www.procarton.com, deadline for entries is the 21. May 2015.
The best carton packaging in Europe is showcased at the Pro Carton ECMA Award. The competition is being held for the 19th time in 2015 and represents the most attractive and successful new cartons to have entered the market. Press coverage confirms: the echo keeps growing, year by year. The outstanding winners and finalists of the 2014 Award and before, can be viewed at www.procarton.com. The jury represents all areas of the Packaging Supply Chain. In line with the growing importance of the Award, the jury had been extended to five members: in addition to chairman Satkar Gidda (SiebertHead, Marketing & Design) and the judges Stan Akkermans (Mars) and Wilfried Duivenvoorden (Unilever), the jury this year includes Lotte Krekels, Packaging Manager at Carrefour Belgium, as well as Suzanne Lippitsch, packaging designer from Vienna. Peter Klein Sprokkelhorst continues to provide professional advice to the jury. This year sees two novelties: due to the growing product segment, the category "Pharmaceuticals" is now called "Health Care & Pharmaceuticals". And concepts in the category "Shelf Ready Packaging" can as of now be entered directly in the individual categories. Participation pays off for all partners to the Packaging Supply Chain. A comprehensive PR and marketing package ensures that numerous European media report on the award winners and finalists and inform the branded goods industry and the retail trade on new opportunities in packaging design:
Announcement of finalists on www.procarton.com in August 2015
Award ceremony at the Award Gala of the ECMA Congress on 10. September 2015 in Bucharest
Print-ready images of all entries for the press
Videos of the jury sessions for every category
E-News to over 12,000 contacts in Europe: brand owners, retail trade and designers
Press releases to all important media in the Packaging Supply Chain throughout Europe
Publication on the websites www.procarton.com,www.ecma.org
Award brochure with all award winners, finalists and entries, printed in English (all award winners with success story and comments by the judges, all finalists with a brief description)
Publication of all news and the Award brochure on www.procarton.com in five languages: English, French, Italian, German and Spanish
Awards for the winners and certificates for the finalists
Roadshow with the winning cartons at exhibitions, congresses, events etc. across Europe
The comprehensive Award brochure not only gives all the pertinent information on the best practice examples of winners and finalists, but also provides the success stories behind the creation of the best packaging. The award-winning packaging also tours the major packaging events in Europe.
Call for entries (PDF) and online submission at www.procarton.com
For immediate submission
Deadline for entries 21. May 2015
Announcement of finalists August 2015 on www.procarton.com
Presentation of awards at the Award Gala ECMA Congress in Bucharest, 10. September 2015
https://www.procarton.com/wp-content/uploads/2021/02/Pro-Carton-ECMA-AWARD-2015_k.jpg
400
600
esterling@admin
https://www.procarton.com/wp-content/uploads/2021/12/logo-232.png
esterling@admin
2015-01-27 00:00:00
2021-11-07 16:01:42
NEW: CALL FOR ENTRIES TO THE PRO CARTON ECMA AWARD 2015