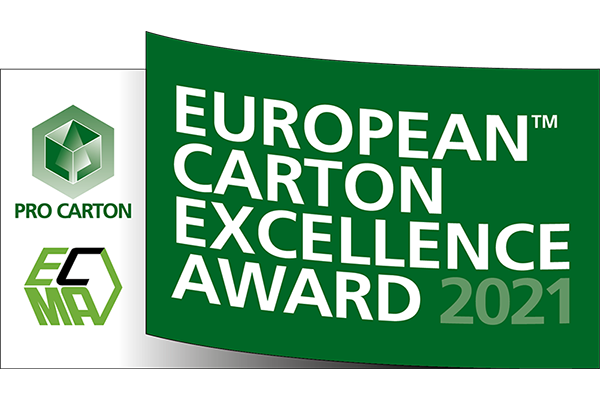 Cartonboard is the material of the future. The logic is convincing - cartonboard packaging is renewable, recyclable, enhances brand image, promotes sales and it's beautiful to boot!  We're launching this year's European Carton Excellence Award (ECEA) a little bit earlier than usual to give you maximum time to prepare your entries. All partners of the supply chain are welcome to participate. Closing date is 28th May 2021.
The ECEA recognises and celebrates the most novel, functional, creative and successful cartonboard ideas. You should submit your entries in one of these four categories:
Food and Drink Packaging, Recycled Fibre
Food and Drink Packaging, Virgin Fibre
General Packaging, Recycled Fibre
General Packaging, Virgin Fibre
There will also be two special awards:
Save the Planet Award: the best carton that has replaced or reduced a less sustainable material
Innovation Award: the most innovative carton or material
The ultimate accolade of 'Carton of the Year' award will again be awarded to the overall champion, regardless of category of product or substrate. In addition to these awards, the judges will choose a further selection of packs that they also believe deserve recognition as either Platinum or Gold Award winners. These will honour the other outstanding cartons produced on recycled fibre and virgin cartonboard across the various market sectors, from everyday grocery items and pharmaceuticals to luxury goods. As usual there will be an extensive range of marketing support – national and international press coverage, social media, e-marketing, videos, photos, award brochures, highlighted on ECMA and Pro Carton websites and, of course, the certificates and trophies for the winners! The finalists and the public voting will be announced early in August. The winners will receive their trophies at the Award Gala ceremony in Autumn 2021 – situation permitting. So, don't delay and remember you can enter as many times as you like. Good luck.
The Awards are now open for entries and close on May 28th 2021. For further information on the awards and the criteria for entering, please visit www.procarton.com/awards/carton-excellence-award/2021/.
For further information, please contact
Suzanne E. McEwen
https://www.procarton.com/wp-content/uploads/2021/02/European-Carton-Excellence-Award_TM_2021-600.png
400
600
esterling@admin
https://www.procarton.com/wp-content/uploads/2021/12/logo-232.png
esterling@admin
2021-01-27 00:00:00
2021-11-05 17:34:28
European Carton Excellence Award 2021: Let's Start Now!