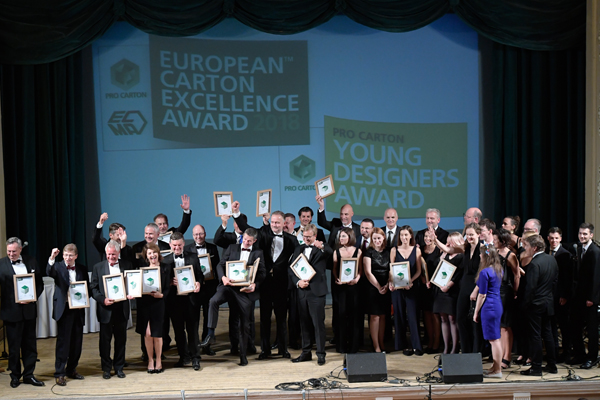 The prizes for the best cartons of the European Carton Excellence Award have now been awarded! Outstanding designs and functional solutions were honoured at the ECMA Congress Award Gala on 20 September - in the glamorous setting of the House of the Riga Latvian Society.
The impressive city of Riga on the Baltic, at the mouth of the Daugava River, is known for its historic buildings, Art Nouveau architecture and medieval centre. The perfect background for an enchanting celebration. The leading heads of the European cartonboard and carton industry gathered to recognise the most creative ideas in the industry. On the Pro Carton website you can find all the winning designs well as photos and video interviews with the prize winners immediately after the award ceremony. "In every category, I can state that the judges saw design, construction, structure and graphics that really made an impact and set carton board far away and above any other material", stated Satkar Gidda, Chairman of the jury, from the international brand consulting agency SiebertHead. Carton of the Year 2018 is "Moët 6 Mini Moët pack" by Van Genechten Packaging. It contains six Mini Bottles of Moët Imperial and six Mini Golden Flutes. The jury's comments: "The moment we opened the box, it was like opening a box of treasure; the way the products were presented and the way the internal carton was structured. Spectacular!" This year, the categories were revised to better reflect the market sector shares and to recognise structural creativity as much as the packs' aesthetic qualities. "The range of creative and sustainable solutions that cartons can offer is clearly demonstrated by the winners and finalists of the European Carton Excellence Award", said Pro Carton President Horst Bittermann. "Every year I am impressed by this successful industry event." The voting for the Public Award was once again very well received and helped raise the competition's profile even further. The winner this time was
Starskin #mask Boss VIP
. Congratulations to all winners and finalists! Printed brochures in English showing all the winners are available from Pro Carton via mcewen@procarton.com.
The Winners
https://www.procarton.com/wp-content/uploads/2021/02/Carton-Awards-20180920-1-95-tv.jpg
400
600
esterling@admin
https://www.procarton.com/wp-content/uploads/2021/12/logo-232.png
esterling@admin
2018-09-23 00:00:00
2021-11-05 18:27:25
European Carton Excellence Award 2018: the Winners