26 GOOD REASONS FOR ENTERING
The Carton Excellence Award enhances the participants' image, strengthens their branding and, as a result, boosts sales. Pro Carton spreads the good news about your packaging with a comprehensive marketing package! Social Media and Public Voting assure continued and growing interest in the entries.
The finalists and winners receive professional photos of their entries, logos and certificates for their own websites, sales materials and Social Media. This turns your prize into a personal marketing tool!
14 different Pro Carton marketing activities
Announcement of all finalists in August on website and e-news
Public Voting creates awareness for the finalists among a broad audience
Award ceremony at the ECMA Congress on 21st September 2017 in Salzburg
High quality photography of all entries
E-news to over 13,000 European contacts: brand owners, retailers and designers
Press releases to the supply chain media in 22 countries
Publication on this website (www.procarton.com)
Winning cartons are included in the rotating presentations on www.procarton.com
Award brochure, including all winners, finalists and entrants, printed in English
All winners with success stories and jury comments
All finalists with short descriptions
All news and the Award brochure report published on www.procarton.com in 5 languages: English, French, Italian, German and Spanish
Trophies for special award winners, awards for winners, certificates for finalists
Roadshows with winning cartons at fairs, congresses, events, etc., throughout Europe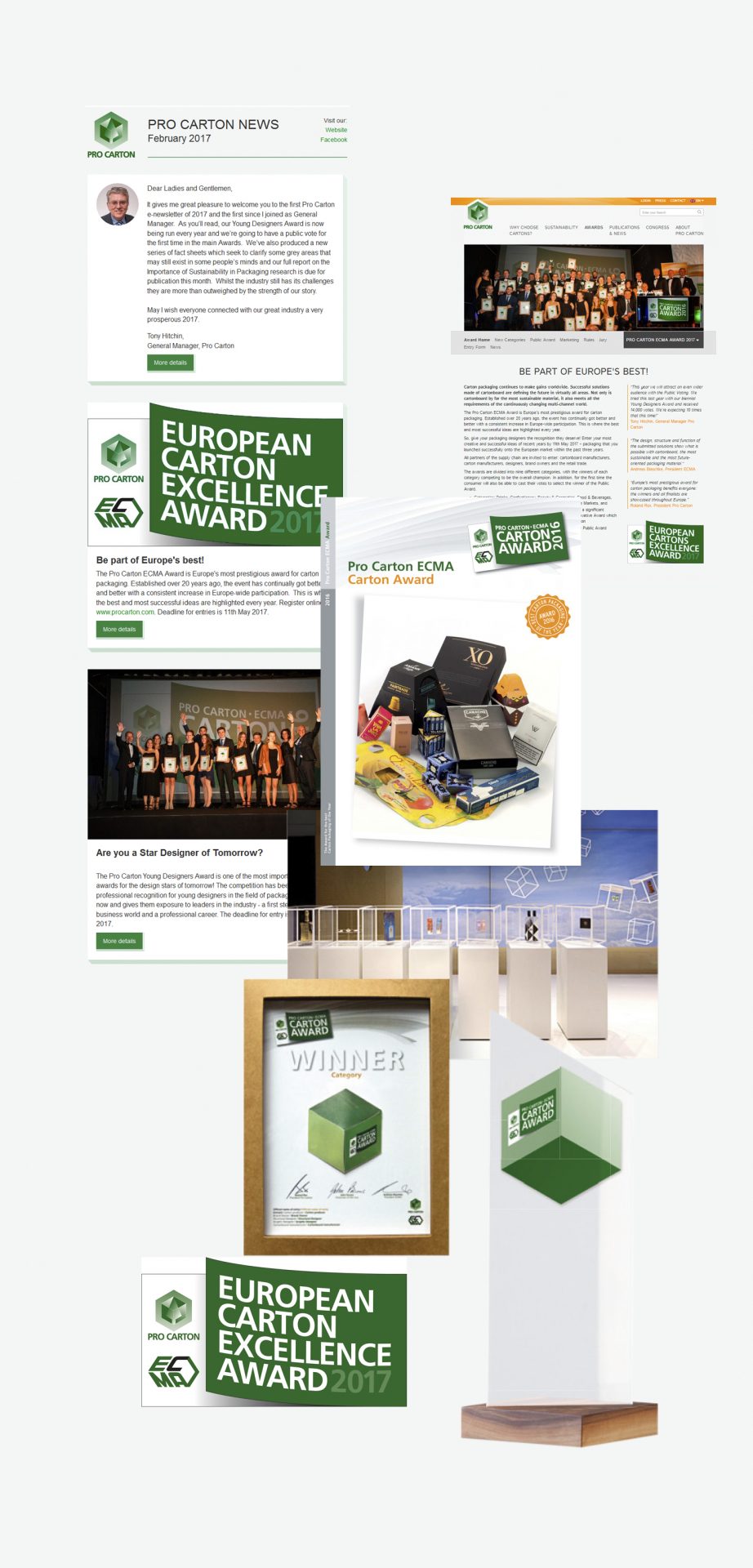 12 Opportunities for winners and finalists to promote their packaging
National celebrations at events, meetings, etc. for your associations
Company events with your team and packaging supply chain partners
National / local press activities
Promote your successful carton with the Award logo
Use Award logo as link to www.procarton.com
Use Award logo for any publication material
Use Award Logo as signature for all employees throughout the company
Use Award logo for promotion and advertising at exhibitions and trade fairs
Add your successful carton with Award logo to your sales presentations
Mailing of the Award brochure to your customers, etc.
Printing and mailing of "your" page from the brochure
Winner cartons available for exhibitions at fairs, congresses, events, etc.
"The Pro Carton ECMA Award competition has been a must for us for many years. We were delighted that in 2015 and in 2016 we were the most successful company overall. This gives us confidence that we are on the right path and provided extra motivation and pride into the organization. Of course, we will participate again in 2017 Pro Carton ECMA Award and we will do our very best to repeat the successes of the last 2 years."Harald Schulz, CEO AR Packaging