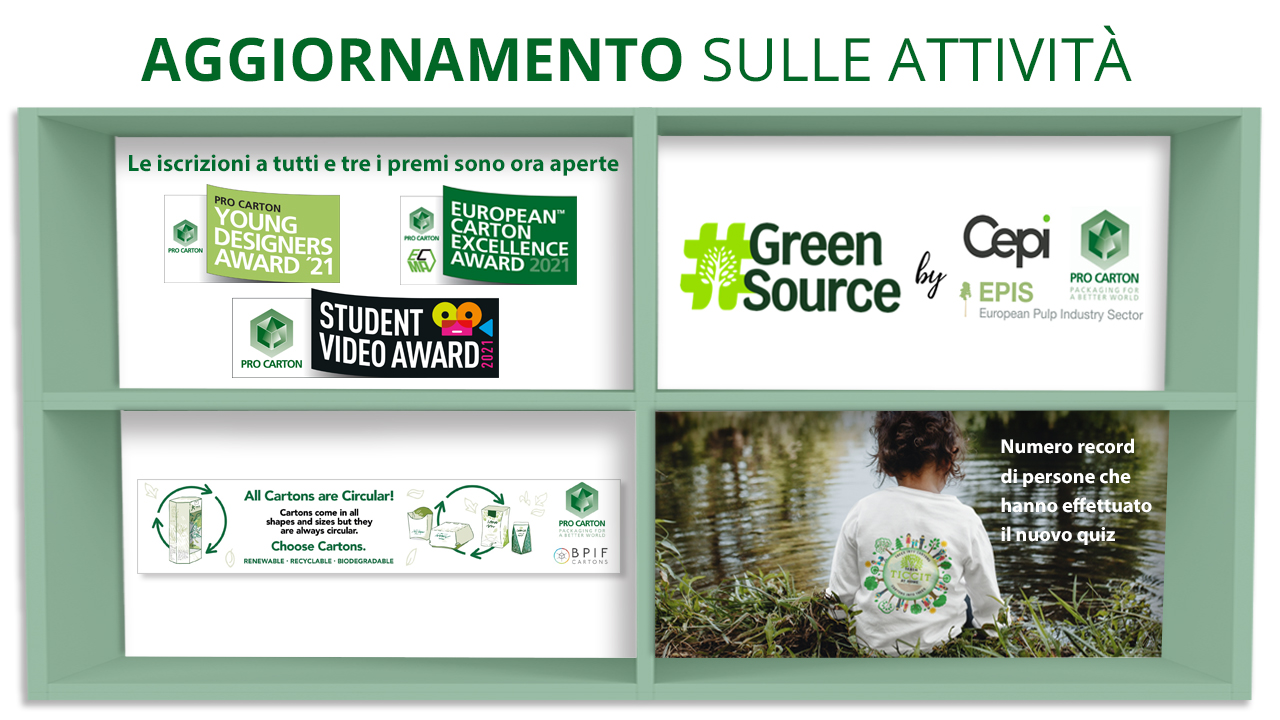 I giorni hanno iniziato ad allungarsi e siamo lieti di aver annunciato i nostri premi annuali 2021 con un po' di anticipo rispetto al solito. Lo European Carton Excellence Award prevede la partecipazione in quattro categorie che riguardano il packaging prodotto sia in fibra vergine che in cartone riciclato. Sempre più università includono il Pro Carton Young Designers Award nel proprio curriculum, mentre il Pro Carton Student Video Award è aperto agli studenti di media e business che possono presentare un breve video per promuovere uno o più vantaggi offerti da cartoncino e cartone e avere la possibilità di vincere € 5.000!
Pro Carton si è unita a #Greensource in qualità di leader della campagna (insieme a Cepi e EPIS) per comunicare i vantaggi dei prodotti di origine forestale e per trasformare in realtà l'obiettivo di raggiungere un impatto climatico pari a zero entro il 2050.
A marzo, Pro Carton e BPIF Cartons pubblicheranno degli annunci pubblicitari sulla rivista The Grocer e sul quotidiano The Guardian nel Regno Unito. The Guardian è il quotidiano di qualità più letto nel Regno Unito, con un bacino di lettori di circa 8,8 milioni di persone al giorno fra tutte le piattaforme. Dai un'occhiata agli annunci pubblicitari.
Per finire, hai provato il nostro ultimo quiz? È rivolto principalmente ai bambini, ma tutti possono provare a farlo e avere la possibilità di vincere uno dei 5 abbonamenti a Disney+. Fino ad oggi abbiamo avuto quasi 5.000 partecipanti!