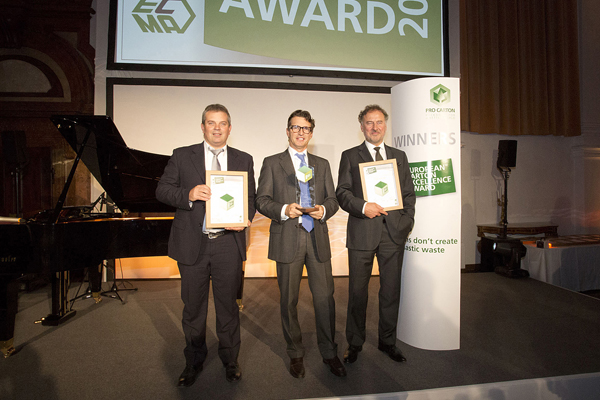 L'European Carton Excellence Award 2018 - entra ora!
The European Carton Excellence Award, Europe's most prestigious award for carton packaging, is now open for entries! This is where the best and most successful packaging ideas are highlighted every year. Cartonboard packaging is making gains worldwide. Successful solutions made of cartonboard are defining the future in virtually all areas. Not only is cartonboard one of the most sustainable materials, it is also one of the best in communicating brand values, whether that be for luxury brands or everyday goods. Last year, the organisers - Pro Carton and ECMA, rebranded the competition as The European Carton Excellence Award. The new name clearly communicating what the awards are about and the name was well received by all especially the media. So enter your most innovative and distinctive packs by 17th May 2018. All partners of the supply chain are invited to enter: cartonboard manufacturers, carton converters, designers, brand owners and the retail trade.
NEW 2018: THE CATEGORIES
We have revised the categories to better reflect the market split and to recognise structural creativity as much as the packs´ aesthetic qualities. We want to showcase the best carton packaging produced on both recycled and virgin fibre board:
Dry Foods & Beverages (including tea, coffee, soft drinks, beer and wine)
Cibi congelati e refrigerati
Fast/Convenience Foods (including paper cups)
Pasticceria
Beni di lusso (per esempio alcolici e spumanti, cure di bellezza, regali)
Sanità e prodotti farmaceutici
Non-Food
Save the Planet: confezioni che hanno dato un contributo significativo per aiutare l'ambiente
Innovative Material: newly developed cartonboard or paper-based substrate
Plus the two overall awards: Carton of the Year and the Public Award, which following last year's success has now become a regular addition to the competition. The finalists and the public voting will be announced early in August. The winners will receive their trophies at the Award Gala during the ECMA Congress on 20th September, which this year is being held in the beautiful city of Riga, Latvia. With your entry you present your creativity to the whole of Europe and benefit from the huge amount of attention the award receives every year. Furthermore, there's an extensive range of marketing support – national and international press coverage, social media, e-marketing, videos, photos, trade PR, website, brochures as well, of course, as the certificates and trophies for the winners and runners up!
Marketing: >> 20 good reasons for entering
Public Voting >> The best of the best
FAQs and Rules >> Enter NOW!
Hear what Alberto Luca, President Lucaprint, had to say on winning Carton of the Year in 2017 >> VIDEO
Tony Hitchin, General Manager Pro Carton: "We established the new category approach in order to ensure the Awards are representative of what you see on the shelves. We hope to see more mass market entries this year, and a balance of entries on recycled and virgin fibre board that better reflects the market"
Roland Rex. President Pro Carton: "It is our desire to stay as closely as possible to the market, reflecting its dynamics, the continuous development of new solutions in cartons and cartonboard industry."
Jean- Francois Roche, President ECMA: "The European Carton Excellence Award has witnessed a consistent increase in Europe-wide attention. Here you will find some of the best and most innovative ideas in packaging."
Saremo lieti di rispondere a qualsiasi domanda:
Pro Carton, Suzanne Mc Ewen
https://www.procarton.com/wp-content/uploads/2021/02/Award-Gala-home1.jpg
400
600
esterling@admin
https://www.procarton.com/wp-content/uploads/2021/12/logo-232.png
esterling@admin
2018-03-13 00:00:00
2021-11-05 18:27:47
Sei uno dei migliori d'Europa?