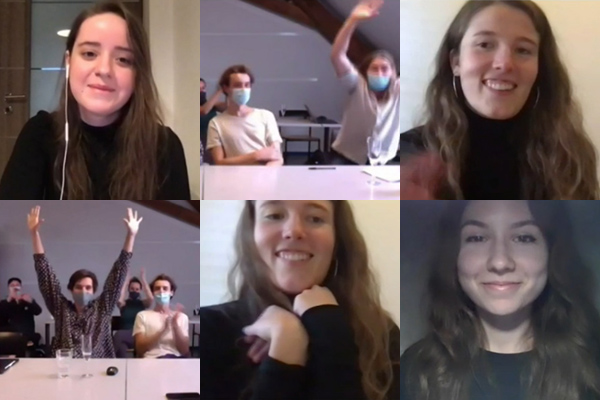 Despite the global pandemic, 2020 proved to be another record-breaking year with over 550 cartonboard designs submitted from 25 different countries across the continent. Prizes were awarded across four categories: Save the Planet, Creative Cartonboard Packaging for Food & Drink, Creative Cartonboard Packaging for All Other Products and Creative Cartonboard Ideas plus a Newcomers' Award which went to a student from a University that hadn't won before.
El
'Save the Planet'
Award went to Max Gugenhan from Austria. His
Almohadillas de cartón
entry was designed to reduce the plastic waste generated from the shipping of small products and fragile items such as electronic devices. The judges were impressed with its innovative design, as the 90° rotated pads create an entanglement which offers excellent spring action and a perfect hold helping to protect the parcel's contents. Another Austrian student, Lorenz Keiblinger, scooped the award for the
'Creative Cartonboard Packaging for All Other products'
category with his ZIG ZAG ZIG entry. This unusual knife pack is easy to open, allows excellent visibility of the product, and requires no plastic, unlike most cutlery packaging. It uses the knife itself for stability by trapping it in a carton strip whilst the sharp edge is safely protected as it is fully enclosed.
Max Gugenhan's winning entry, Cardboard pads (left) and Lorenz Keiblinger's winning entry, ZIG ZAG ZIG
El ganador del
Ideas creativas para el cartón
Award, Nora Karl from Germany, created Fulfil – tampon packaging that aims to help save the marine environment at a global level. Tampons should not be flushed as they block pipes and pollute the ocean, and this creative design means that each tampon comes with a folded sanitary disposal box providing the user with a more hygienic and eco-friendly means of discarding the product. Fulfil also won the
Public Award.
El
Creative Cartonboard Packaging Food and Drink
Award was presented to Gabriela Buțincu from Romania for her entry, Easy-to-use flour box. The judges commented that 'it provides the perfect example on how a carton can incorporate different functionalities without requiring any specialist skills or additional tools from its user'. The practicality of the packaging impressed the judges as it has an innovative flour sieve built into the pack.

Winning entry Fulfil by Nora Karl, Mirjam Bauer and Maureen Seel (left) and Gabriela Buțincu's winning entry, Easy-to-use flour box
The winner of this year's
Newcomer Award,
that goes to a university that hadn't supplied a winner before, went to Yana Malakhovskaya from Samara State Technical University in Russia. Her entry, Avis, provides sustainable packaging for nuts and snacks, aiming to appeal to both children and adults. The judges were impressed by the creative design which was inspired by the opening and closing of a bird's beak. The carton has an innovative opening mechanism - applying pressure to the edge of its high side results in the opening of the "beak", allowing the consumer to pour out the required number of nuts and then close the package.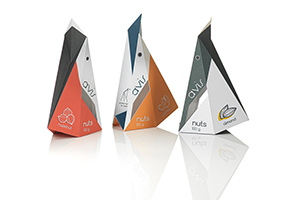 Yana Malakhovskaya's winning entry, Avis
As part of their prize, the winning young designers can look forward to a trip to Italy to visit the Reno de Medici (RdM) cartonboard mill and Artigrafiche Reggiane & Lai, a leading Italian carton converter. Tony Hitchin, General Manager of Pro Carton, said in his summary: "We are delighted with the number of entries to this year's Young Designers Award; it is great to see that students have been proactive during the coronavirus pandemic lockdowns. The number of high-quality submissions we received was astonishing and demonstrated the creativity of the younger generation, as well as the passion which many students have for a better future with sustainable packaging". "The year-on-year growth of the Awards is always welcomed, but a 20% increase in entries from last year is a significant achievement given these unpredictable times. We'd like to thank all those who entered for making another successful competition and helping us in our goal to promote the use of cartonboard as it plays a crucial role in encouraging brands to support a circular economy."
https://www.procarton.com/wp-content/uploads/2021/02/pcyda-gesamt-600.jpg
400
600
esterling@admin
https://www.procarton.com/wp-content/uploads/2021/12/logo-232.png
esterling@admin
2020-10-15 00:00:00
2021-11-05 17:36:41
Pro Carton corona a los jóvenes diseñadores del mañana