2020-07-27
Pro Carton gets involved in a wide variety of projects but not many of them are bigger and more impactful than when they created a 1.5 metre tall dictionary to promote the word cartonboard, which is surprisingly not yet in the Oxford English Dictionary, the ultimate lexicon of the English language. Working with Graphic Packaging, and using material supplied by Stora Enso, a unique dictionary was created made entirely from cartonboard. A total of 65 Coated Kraft Back (CKB) 350gsm and 600 micron 800mm x 1200mm cartonboard sheets were used!
Here's the story of how GPI did it: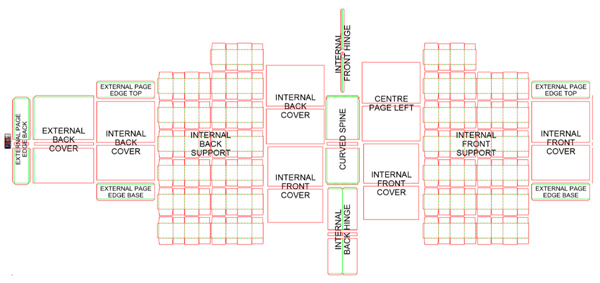 Exploded view of the dictionary layout.
The first stage of the process involved joining two sheets to make the front, back and centre pages, followed by creating a 'honeycomb style' structure that was fitted behind the outer pages to provide support. This structure was made up of 26 standard skillet-end cartons, 13 in each side, arranged in a checkerboard pattern.

Standard skillet-end cartons arranged in a checkerboard pattern to offer the front and back sheets support.
The supporting structure was then sandwiched between the unprinted front and back page sheets.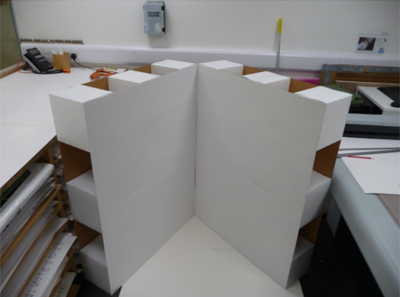 The unfinished dictionary standing upright due to the supporting 'honeycomb style' structure.
The next step was to apply the printed "book" edge on all sides of the dictionary to mask the internal supports.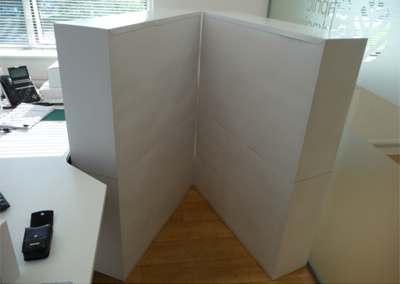 Cartonboard sheets applied to prevent exposure of the supporting structure.
A total of three working hinges were installed in the dictionary. The first was applied to the inside centre pages, the second on the outside of the two half spines, and the third hinge to the curved outer artworked spine.
Each page was made up of two sheets joined together and so extra precautions were taken to ensure no major elements such as text would be on the joins. Graphical creasing and texture were also added to the pages and cover to help bring the dictionary to life.
The final printed full pages for the front and back were added but had a 25mm overlap to simulate the slightly bigger cover found on hard-backed books.

The hinges and the printed exterior were added.
The final printed centre pages were then added, including a definition for the word 'cartonboard'.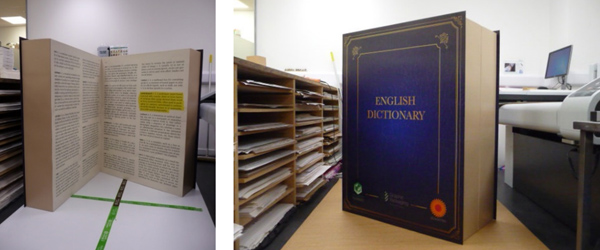 The completed dictionary with printed interior and external pages.
A strong reusable shipping crate with wheels was made to ensure the safe and easy transportation of the dictionary. The wooden crate was over 1.5m tall and weighed approximately 60kg!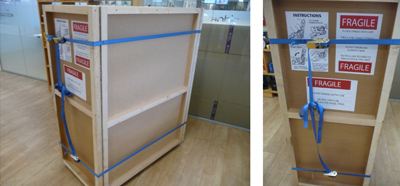 The wooden shipping container ensured the dictionary was not damaged during transport.


General Manager of Pro Carton, Tony Hitchin, with GPI's Lee Nowak and Liam Cooke at the campaign launch in the Charing Cross Library, London.
Find hi-res images at: https://www.flickr.com/photos/procarton/albums/72157714763727611
---
Pro Carton members, patrons, partners