Recycling of paper and board makes sense both from an environmental and from an economic standpoint. It means efficient use of the raw material from the forests, a reduction in waste and energy savings. It also plays its part in reducing greenhouse gas emissions generated in landfills.
What is meant by Recovery and Recycling
Recovery includes the collection of used paper and board and delivery to a reprocessing mill. It can sometimes also denote the recycling process.
Recycling is the reprocessing of recovered paper and board, including composting. Recycling occurs when a product having completed its original function is reprocessed to convert it into useful new material.
The paper and board industry has always had a recovery infrastructure and the recycling of paper and board predates the modern industrial era. Before the use of wood as a raw material the main cellulose based raw material for hundreds of years was obtained by recycling fibres from discarded linen (flax fibre).
Recycling Cartons
Folding cartons can be recycled by reprocessing in a mill, where the fibres are separated. The recovered fibre is then used to make cartonboard or another paper or board product. Alternatively, they can either be composted, a process also known as "organic recycling", or if recycling is no longer a viable option, their energy content can be recovered in an energy-from-waste incinerator.
For recycling to happen, the packaging waste must be recovered, i.e. collected and sent to a mill. Waste arising during manufacture is relatively easy to recover, as, for instance, trimmed waste in cartonboard mills and from carton manufacturers. However, the bulk of cartonboard, along with all paper and board products, is ultimately dispersed throughout society and an infrastructure is required for its recovery. It may be segregated in the home, or other point of disposal, and either collected or taken to a collecting location. The main sources of paper collection in general, are 50% from trade and industry, 40% from households and 10% from offices. The future potential for increasing the collection is from households, as the industrial sources are already utilised to a great extent.
Increasing collection from the households of usable paper and board products depends on the quality of the used paper and board collection. Separate collection increases the quality of the recovered paper.
Diverting more paper and board from landfill sites to separate collection for recycling makes an important contribution to achieving the target of 65% of biodegradable materials that should be recovered by 2016 under the EU Landfill Directive. Paper and board will also play an essential role in reaching the EU target to recycle 50% of household waste by 2020.
Paper and board is the most recycled packaging material in the EU with a recycling rate of 85% based on data from Eurostat.
Around 50% of cartons in Europe are made from recycled cartonboard.
European Declaration on Paper Recycling
In 2000, the paper industry adopted a voluntary initiative to increase the recycling rate from 49% to 56% by 2005. This was achieved and a new commitment was made to reach a recycling rate of 66% by 2010 in 29 European countries (EU 27 + Norway and Switzerland).
This trend has continued and the paper and board industry continues to be committed to its ambitious target of recycling at a steadily increasing rate in Europe.  In 2017, the European Recovered Paper Council announced a target of 74% by 2020.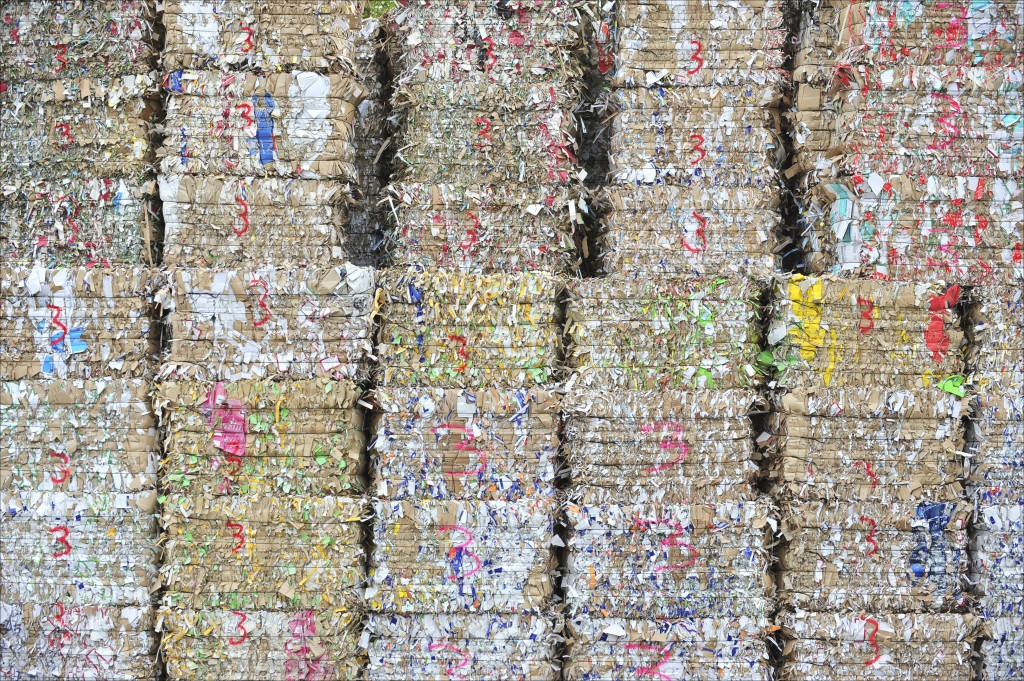 Recovered Fibre
All recovered fibre, including fibre from recovered paper and board packaging, contributes around 50 % of the fibre used in the paper and board industry world-wide. The amount of recovered fibre used is around 150 million tonnes per annum. Waste packaging, including folding carton waste, is not, therefore the only source of fibre for recycling in Europe. Other major sources include corrugated fibreboard, newsprint and magazines, office stationery and general paper waste from printers.
To increase the recovery and recycling of packaging in Europe, targets for the amounts of packaging waste, including that from paper and board based packaging, are set by the Directive on Packaging and Packaging Waste, 94/62/EC.
The quality of recovered fibre
The quality of recovered fibre depends on a number of factors starting with whether they are long or short fibres, how they were separated from the original wood, whether they were bleached and to what extent are they associated with other materials such as coatings, ink, plastics, wet strength resins and adhesives.
Fibre quality therefore depends on the initial separation and treatment, how they were made into paper or board and, finally, how those products were used.
The quality of fibre ranges from virgin pulp substitute grades (unprinted white trimmings), office waste, newsprint, brown (unbleached) packaging to mixed papers and boards. The grade or type of waste and market demand determines the price.
Recovered paper and board is therefore graded. The European List of Standard Grades of Recovered Paper and Board (EN 643) is a European Standard which lists different grades of recovered paper, including cartonboard, The Waste Framework Directive (2008/98/EC) introduced a procedure for defining End -of – Waste criteria. These are criteria which a waste stream has to fulfil in order for the waste products to change status from waste to becoming secondary raw materials. The technical proposals for waste paper and board have still to be decided.
Fibres cannot be recycled indefinitely
The number of times a fibre can be recycled depends on the original virgin fibre, its initial processing and use, and the uses of the resulting paper or board products. Laboratory work suggests that fibres can be recycled more than 25 times.
Recycled fibres lose strength in the recycling process, through reductions in length and inter-fibre bonding – fragments of fibre become sludge during reprocessing – and an input of virgin fibre is needed to maintain the strength of the recycled paper and cartonboard.
Some products by the nature of their use, take the fibres out of the paper cycle altogether. Examples include archived printed material, book covers, cigarette paper and products such as tissues for personal use. The share of non-collectable and non-recyclable paper is estimated to be about 19% of total paper consumption, so the theoretical maximum collection rate would be around 81% instead of 100%. The closer the collection reaches this percentage, the less benefit is achieved environmentally and economically.
Preserving and ensuring the quality of the flow of used paper and board to be recycled is essential if the recycling industry's activities are to be sustainable.
Eco-design for recycling
Good recyclability of used paper products depends on good eco-design.
For example, ink manufacturers are offering inks using renewable and recyclable resources such as soy, vegetable oil and starch and printers increasingly recover and recycle inks and solvents.
Over and above savings made in terms of new material and therefore source reduction, eco-design aims to reinforce the recyclability of cartonboard and leads to many environmental benefits, including:
Optimising the use of natural resources
Increasingly the quality of pulp
Optimising collection systems
Reducing waste and unrecyclable components