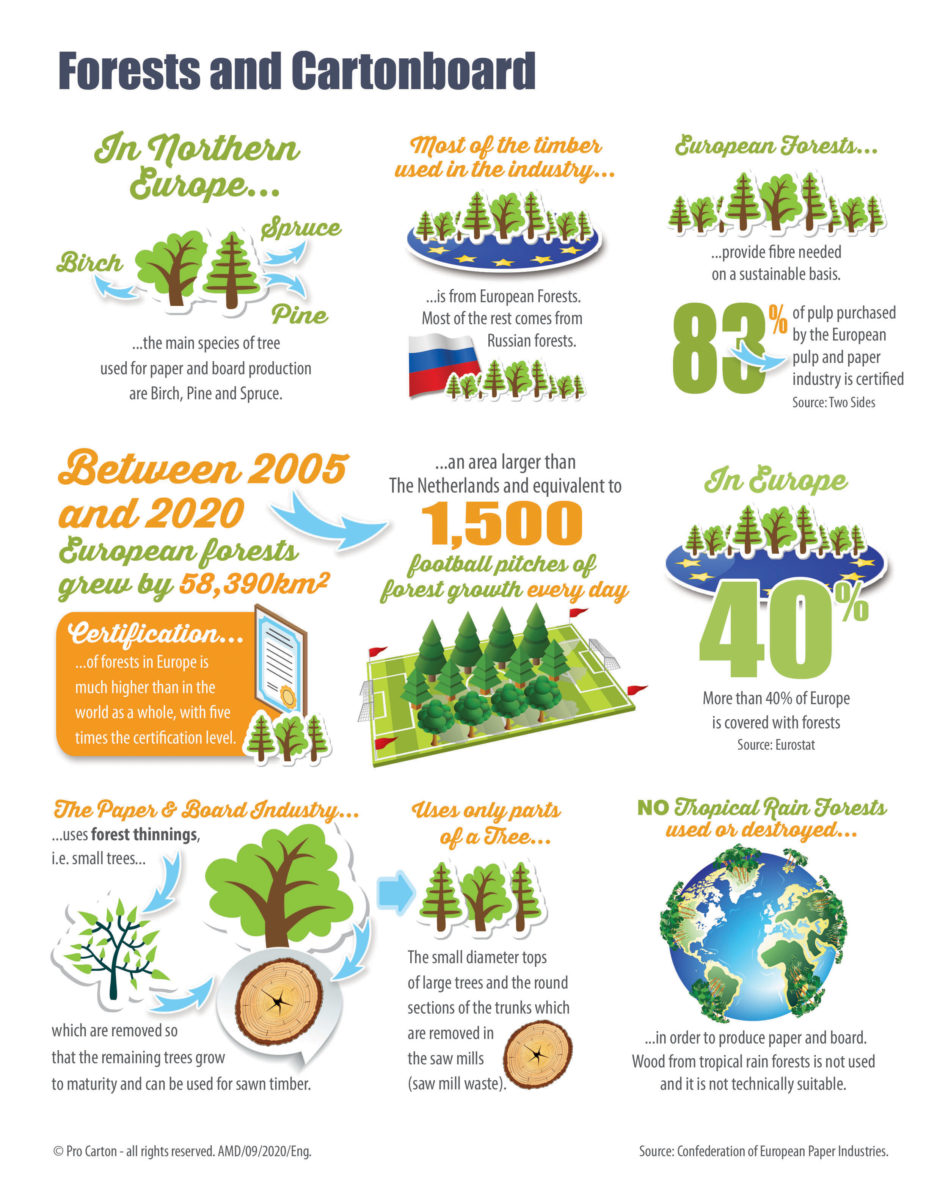 The original resource for the cartonboard packaging industry is the European forests
In Europe, about 40% overall of the land is forested. Europe has over 16 million private forest owners, and less than 4% of European forests are owned by European paper companies. The largest forests are in Finland and Sweden, where they account for 72% and nearly 66 % of the area respectively.
The vast majority of the timber used in the European paper and board industry comes from European forests. Most of the rest comes from Russia. European forests are large enough to provide all the fibre needed on a sustainable basis.
Forest area in Europe is increasing not decreasing. Every year new growth exceeds the wood harvested by an area equivalent to 1500 football pitches every day. European forests are growing: 512,000 hectares from 2005-2010. Forests today are over 30% larger than in the 1950s.
No tropical rain forests are destroyed in order to produce paper and board
The paper and board industry does not use wood from tropical rain forests. This wood is not technically suitable. The real threat to tropical rain forests comes from land hunger. Every year about 12 million hectares of forest world-wide are cleared for agriculture and fuel in the less well developed parts of the world.
The main suppliers of wood fibre for cartonboard are forests in Sweden, Finland, France, Germany and Poland.
Is the land covered by European forests used in a sustainable way?
Sustainable forestry is, in the words of the European Agreement signed in Helsinki in 1993, "the stewardship and use of forests and forest lands in a way, and at a rate, that maintains their bio-diversity, productivity and their potential to fulfil, now and in the future, relevant ecological, economic and social functions, at local, national and global levels, and that does not cause damage to other ecosystems".
According to this definition European forests used by the paper and board industry are sustainable. Not only are they are a renewable resource, but every year new growth exceeds the wood harvested by an area equivalent to 1500 football pitches every day. Forests offer a natural habitat to vast numbers and different species of plants and animals. They preserve this biodiversity and make a significant contribution to the maintenance of the world's gene bank.
Sustainable Forest Management
The European forest industry has accepted the principles of sustainable development and practices sustainable forest management. This involves:
Binding laws and agreements
National laws and regulations
EU legislation
International agreements such as the Convention on Biodiversity
Voluntary actions
Company policies that exceed legal requirements
Forest certification
Forest owners' own management objectives
Practices can differ in different regions or countries and under different conditions
Forest owners can prove that their forests are sustainably managed
Forest owners wishing to demonstrate that their forestry management practice conforms with the appropriate standard can apply to independent, third party, auditing bodies for an assessment of their performance
A number of assessment or "forest certification" schemes are in current use, with two leading schemes:
the PEFC (Programme for the Endorsement of Forest Certification Systems) scheme
the FSC (Forest Stewardship Council) scheme
Whilst there is overlap in the types of forest certified by these two schemes, the FSC scheme is more generally applied to large forest areas typical of state and forest industry ownership, whilst the PEFC is generally used for the certification of smaller private and family owned forests.
For requirements for PEFC and FSC labelling and claims, please visit their websites at:
www.fsc.org
www.pefc.org
Key points about forest management certification
Verifies that a forest has been managed according to a defined set of performance standards
Forest certification can cover forest management, plantation management and in the future, biomass energy
Forest management standards are country – specific and requirements are not globally identical, making some schemes more appealing than others for forest owners
Provides a logo which communicates sustainable forest management
Data collected in 2013 for the paper industry in Europe showed that:
99.9% of the company-owned / leased forest areas in Europe are forest management certified by independent forest certification schemes (in 2008, this was 82%)
64.6% of the round wood, chips and sawdust delivered to company-owned mills in Europe are from forest management certified sources (in 2008, this was 56%)
Chain of custody: Tracking the origin of the raw material at each stage of the production process
In order to demonstrate that wood originates from a certified forest, manufacturers and retailers of goods produced from the forest need a "chain of custody" certificate.
Chain of custody certification is third party verified and only when the whole supply chain has been certified, can the final products be sold with a label and a corresponding claim on accompanying documentation.
For forest products such as cartons, certifying the chain of custody means verifying that the wood used at each stage of the production process came from a forest certified as being sustainably managed. It is only valid if each step in the supply chain is checked.
For goods manufacturers and retailers, the value is in being able to label the cartonboard packaging as coming from a sustainable managed forest and benefiting from the environmental credit as consumers make their shopping choices.