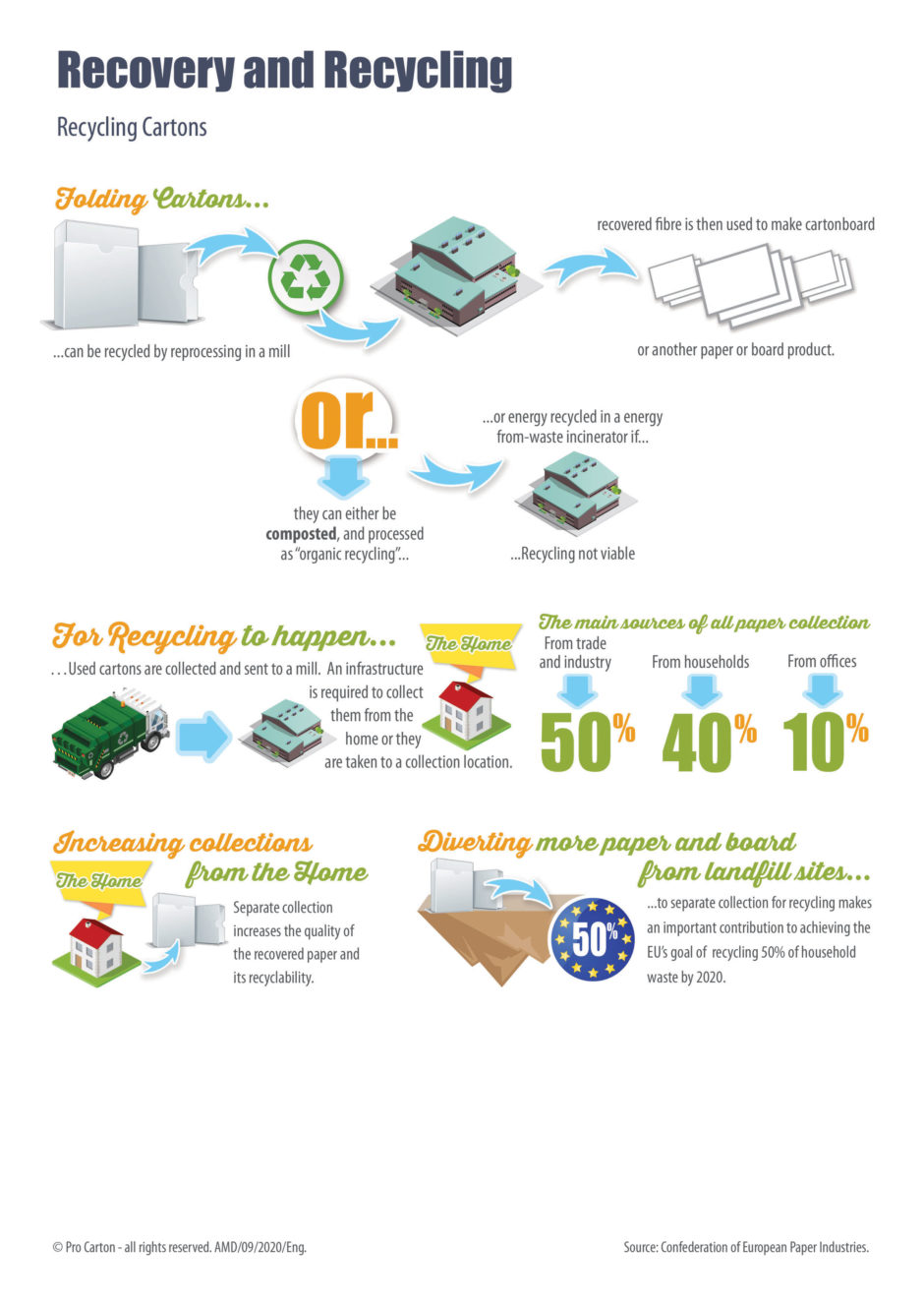 Introduction
Raw Material Use as a resource category covers living (biotic) and non-living (abiotic) material.
In the context of the resources used to make cartonboard packaging, biotic material covers wood fibres from the forest, used as the raw material for cartonboard – a renewable resource.
Abiotic material includes the fossil energy used from burning coal and gas and also the minerals for cartonboard and carton production. These resources are non – renewable, and the industry is committed to finding ways to reduce the use of these resources and / or replacing them with renewable or environmentally friendly alternatives.
Eco-design principles applied to the manufacture of a product should lead to the efficient use of the resources used. Consideration should also be given to the materials at the end of life. At end of life, cartons can be a resource as a secondary raw material and recycled or used as an energy source when they are sent to a facility to be incinerated with energy recovery.
Renewable Raw Material: Wood fibres from Sustainably Managed Forests
Forests serve many functions: environmental, economic and social, providing jobs, incomes and raw materials for industry and for renewable energy. Forests cover some 175 million hectares of Europe or more than 40% of Europe's land area.
European forests used by the paper and board industry are sustainable. Not only are they a renewable resource, but every year new growth exceeds the wood harvested by an area equivalent to 1500 football pitches every day. European forests are growing: 512,000 hectares from 2005-2010. Forests today are over 30% larger than in the 1950s.
The main suppliers of wood fibre for cartonboard are forests in Sweden, Finland, France, Germany and Poland.
Renewable Energy: Bio based products
Chemical pulping of wood fibres results in a by-product which is used an an energy source for the pulping process. In integrated cartonboard mills, where pulp and cartonboard are both made at the same site, the wood by-products provide energy in the form of electricity and steam for the manufacturing process. This energy source is therefore renewable and sustainable.
The European paper and board industry is the largest producer and consumer of biomass based energy – 20% of the EU total – thus avoiding the use of non-renewable resources such as oil, coal and gas. Of the European pulp, paper and board industry's total primary energy consumption in 2013, 56% was derived from biomass.
Cartonboard mills are contributing strongly to these improvements. Investments are being made in cartonboard mills to completely eliminate all fossil carbon emissions by switching the energy supply from fossil fuels such as natural gas to biofuels. All production will then be biofuel driven and mills will be self-sufficient in electricity and thermal energy in the form of steam.
Over 95% of European pulp, paper and board mills have installed combined heat and power (CHP) plants, mainly based on biomass and natural gas. Combining the production of electricity and heat provides savings in fuel consumption in the order of 30 -35% compared to separate production.
Biomass – paper and board production or energy production?
Burning wood to generate energy for a national grid is an easy solution to meet demand for renewable energy – but it is not efficient or sustainable as it would lead to pressure on forests and higher costs. Using wood as a raw material for the paper and industry is more resource efficient as it creates four times more value and retains six times more jobs than the energy sector would, by burning wood.
Eco design and recyclability of cartons
Eco-design is an important aspect of Resource Efficiency, influencing waste prevention and improved recyclability.
The Waste Management hierarchy is a key driver for Resource Efficiency and waste prevention is at the top of the hierarchy. Reducing the quantity of waste generated in the production process of cartonboard packaging has been a central focus for the industry for many years, which has long recognised the economic and environmental benefits of waste reduction.
The environmental benefits of recovering paper for use as a secondary raw material are well appreciated and cartonboard manufacturers are working to optimise its use and thus reduce waste. Increasing efficiency of stock preparation through investment in modern technology has led to an increase in the recuperation of recovered fibres, by several thousand tons per year, and the reduction of rejects from the production process.
A second aspect is the prevention of the generation of waste through light-weighting materials and using the minimum amount of material necessary for the product to be fit for purpose.
Cartonboard manufacturers have worked to light weight their products over many years. For example, a typical carton packaging a frozen fish pie is 20% lighter today than it was in the 1970s. (Source: INCPEN)
Carton manufacturers are also continually working to reduce the amount of materials used and substantial savings have been achieved through clever design solutions. For example, reducing the flaps on biscuit cartons.
Good recyclability of used paper products such as cartons, depends on good eco-design. The planning and design phases of carton solutions contribute significantly to waste prevention. Ideally, packaging design should be addressed at the same time as product design, so that the two work together.
Informed choices of auxiliary materials such as Inks and Coatings is also key to good eco-design. For example, Ink manufacturers are increasingly using renewable and recyclable resources such as soy, vegetable oil and starch and helping printers to recover and recycle inks and solvents. Sheetfed inks are also integrating up to 100% renewable vegetable oils, and deliver significant improvements, including the reduction of VOC emissions and energy consumption by rapid setting or reduced paper wastes, through quick start-up.

Recovery and Recycling of Cartons: Waste as a Resource
Recovery includes the collection of used paper and board and delivery to a reprocessing mill. It can sometimes also denote the recycling process.
Recycling is the reprocessing of recovered paper and board, including composting. Recycling occurs when a product having completed its original function is reprocessed to convert it into useful new material.
When folding cartons are discarded after use they become part of the packaging waste stream, they can be recycled by reprocessing whereby the fibres are separated. The recovered fibre is then used to make cartonboard or another paper or board product. Around 50% of cartons in Europe are made from recycled cartonboard. In 2016, paper and board packaging achieved a recycling rate of 85%, making it the most recycled packaging material in the EU, according to Eurostat.
Alternatively, cartons can be composted, a process also known as "organic recycling". Cartonboard is ideal for composting because cellulose fibre is biodegradable. This means that it can be broken down into natural substances by bacteria using microbial enzymes, thereby producing carbon dioxide, water and compost (humus).
Finally, when it is not practical for cartons to be recycled as fibre for technical or cleanliness reasons, their energy content can be recovered in an energy-from-waste incinerator.
For recycling to happen, the packaging waste must be recovered, i.e. collected and sent to a mill. Waste arising during manufacture is relatively easy to recover, as, for instance, trimmed waste in cartonboard mills and from carton manufacturers. However, the bulk of cartonboard, along with all paper and board products, is ultimately dispersed throughout society and an infrastructure is required for its recovery. It may be segregated in the home, or other point of disposal, and either collected or taken to a collecting location. The main sources of paper collection in general, are 50% from trade and industry, 40% from households and 10% from offices. The future potential for increasing the collection is from households, as the industrial sources are already utilised to a great extent.
Increasing the amount of recycling of paper and board products which are recovered from households depends on the quality of the used paper and board collection. Separate collection increases the quality of the recovered paper.
Abiotic Material
For information on the fossil energy and impact of the minerals used for paper and carton production, please go to the section on Carbon Footprint.