...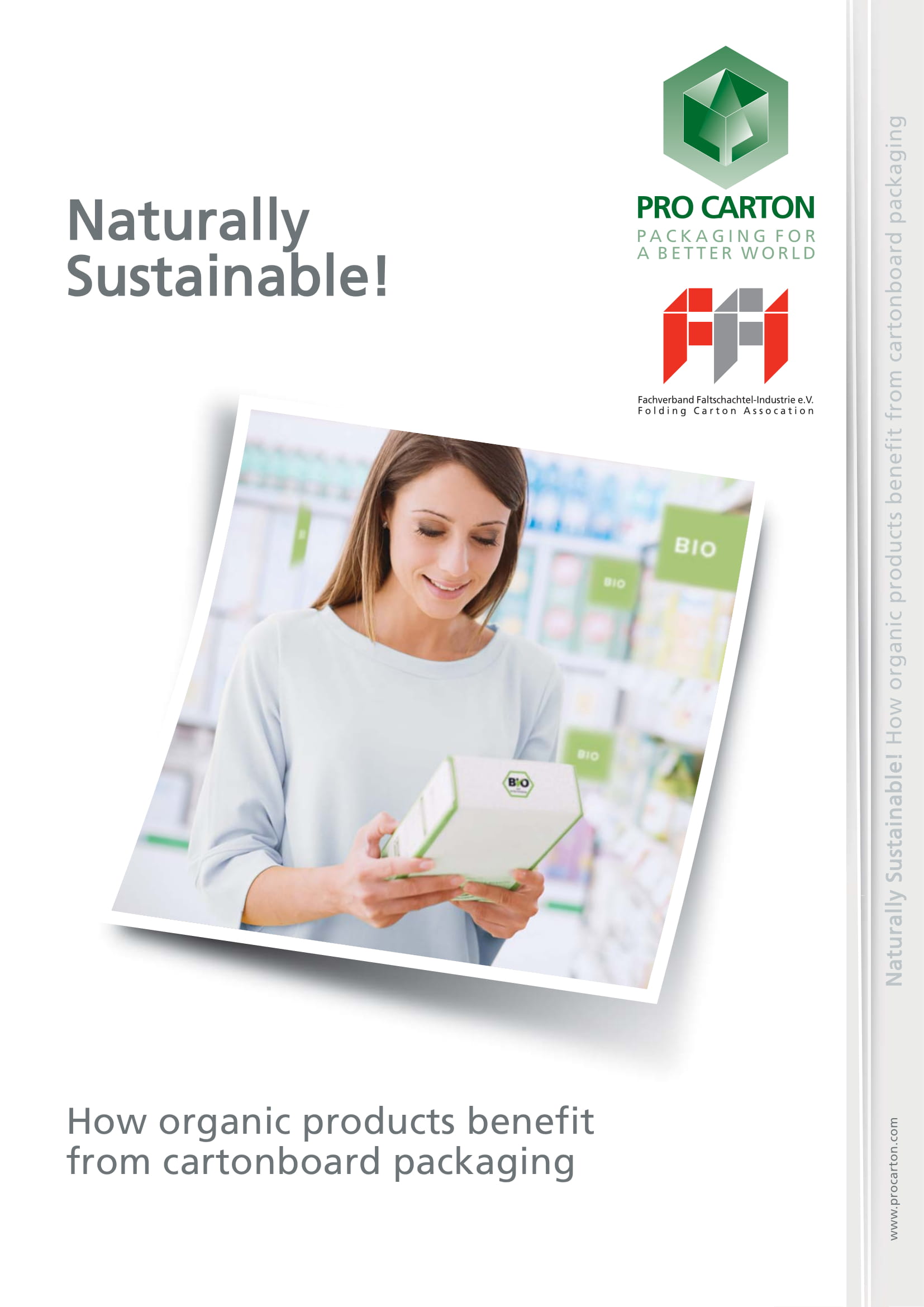 Naturally Sustainable!
How products are viewed by the consumer depends on the packaging material. This is the conclusion of a study carried out by Justus Liebig University Giessen on behalf of FFI (the German Carton Association) and Pro Carton. This study, conducted amongst 1252 consumers in Germany, shows that organic products are viewed more positively if they are packaged sustainably, i.e. in folding cartons. Folding cartons are better in their eyes, are of higher quality and, above all, are more sustainable. This study is now available in English as well as the original German.
---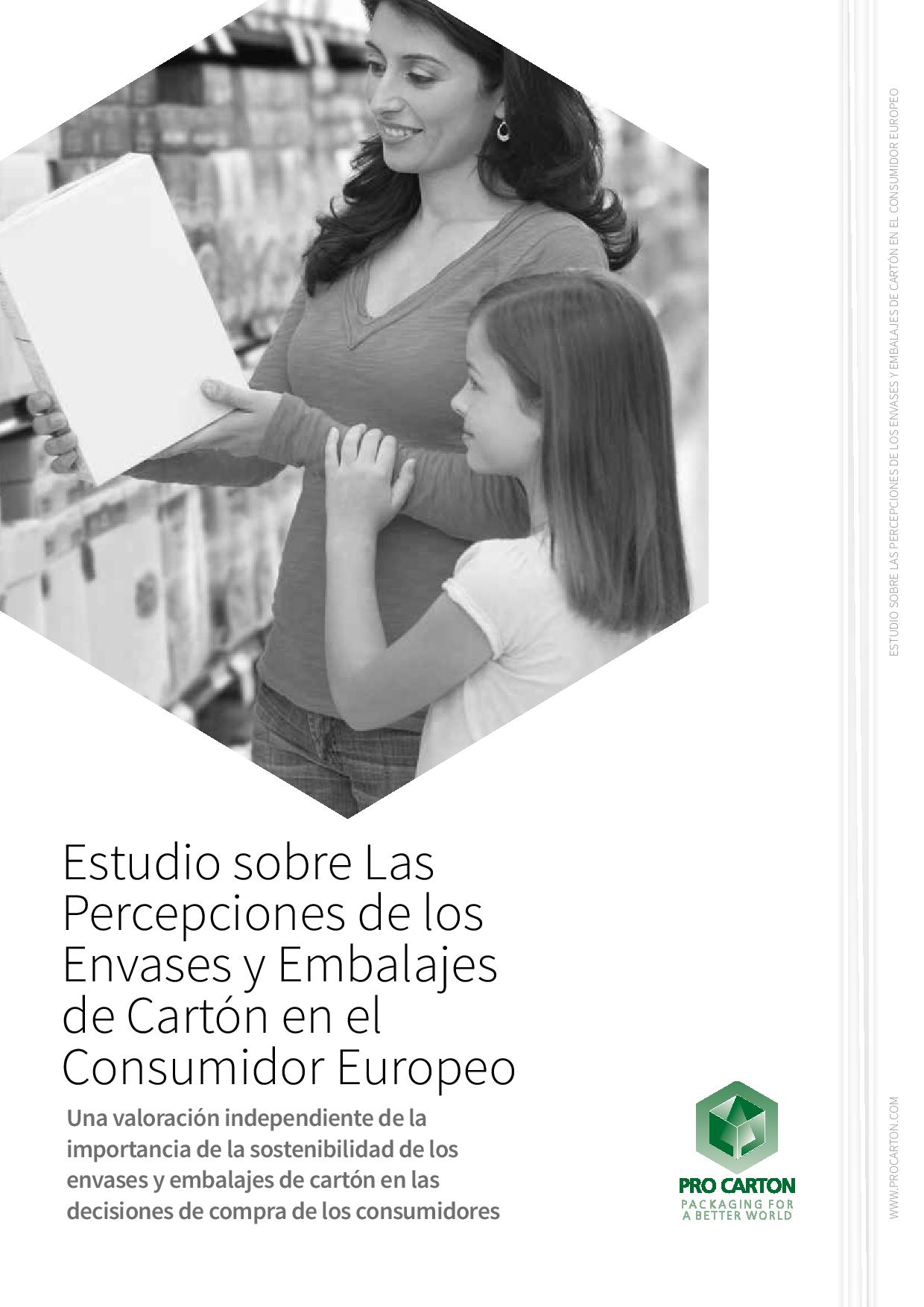 Estudio sobre Las Percepciones de los Envases y Embalajes de Cartón en el Consumidor Europeo
Para el estudio, llevado a cabo de forma independiente por Coleman Parkes Research, se encuestó a 7.000 consumidores de siete países. El estudio se diseñó para evaluar las opiniones de los consumidores sobre diferentes formatos de envasado y para comprender sus actitudes hacia la sostenibilidad de los envases y embalajes de cartón.
---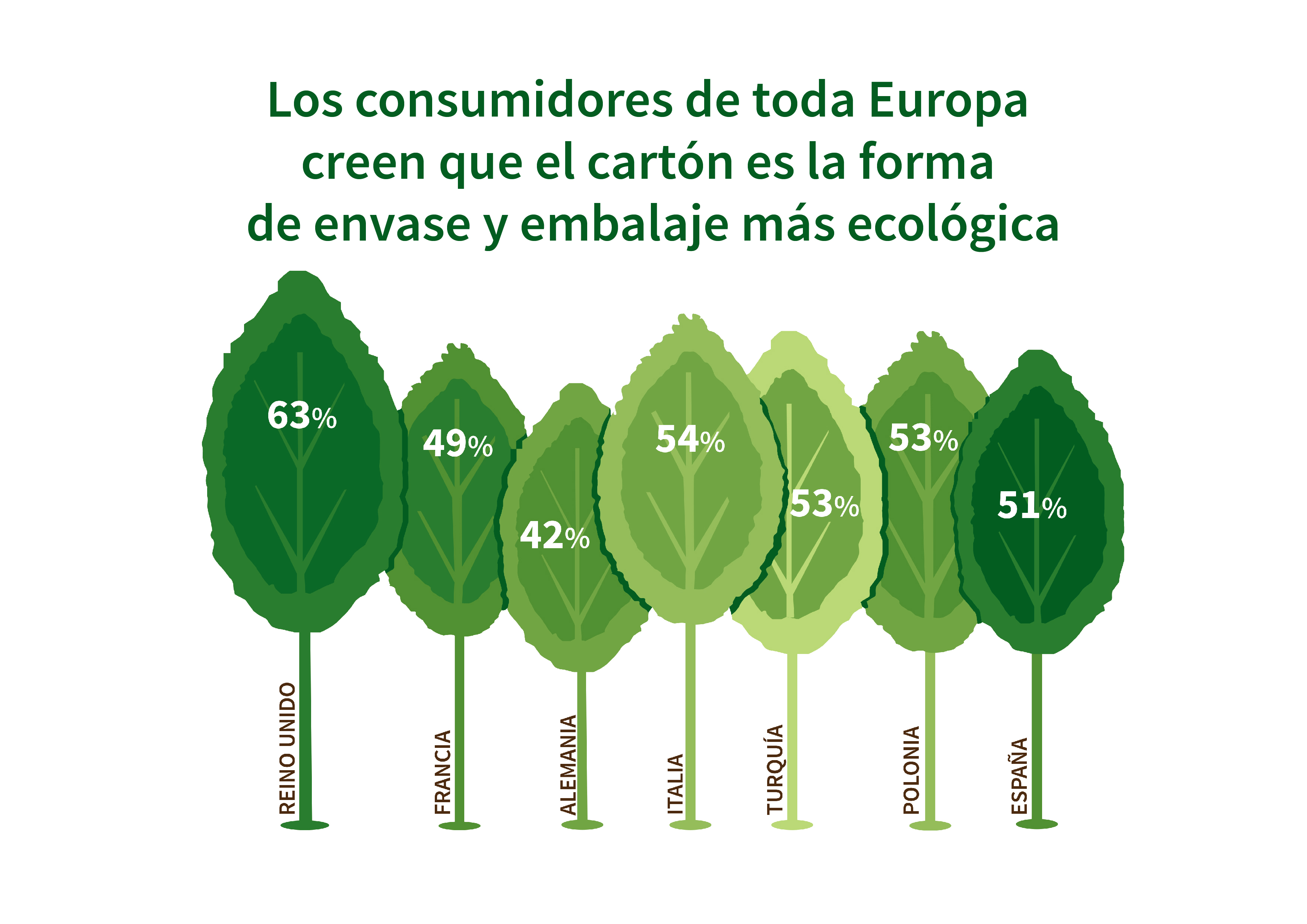 Infografia de la estudio sobre las percepciones de los envases y embalajes de carton en el consumidor Europeo
Gráficos del estudio sobre la percepción que tienen los consumidores europeos de los envases y embalajes de cartón – para que los miembros los utilicen en sus presentaciones. ©Pro Carton
---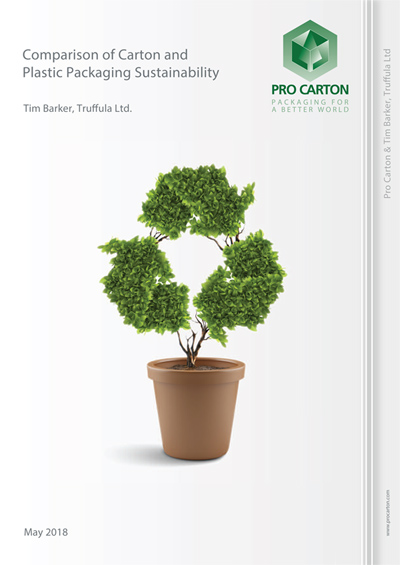 Cartons and Plastic Sustainability Study
Pro Carton commissioned Truffula Ltd to research and write this independent report. Its information sources are all in the public domain and are individually referenced. The report is intentionally transparent, analysing the advantages and disadvantages of plastic and cartonboard from a technical and environmental standpoint.
---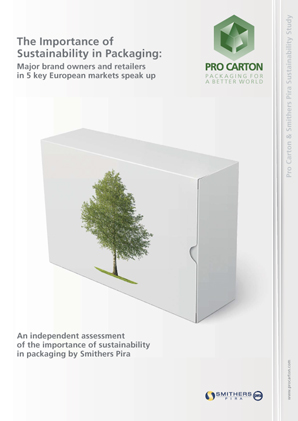 La importancia de la sostenibilidad en el envase y embalaje
Un nuevo estudio independiente de Smithers Pira, encargado por Pro Carton, entre los principales propietarios de marcas y minoristas en 5 mercados europeos clave ha demostrado una resonante evidencia de la importancia de la sostenibilidad en los envases y embalajes. Los envases de cartón plegables fueron percibidos como el envase y embalaje más sostenible, pero todavía hay cierta confusión sobre todo el tema de la economía circular y lo que hace que el envase y embalaje sea sostenible.
---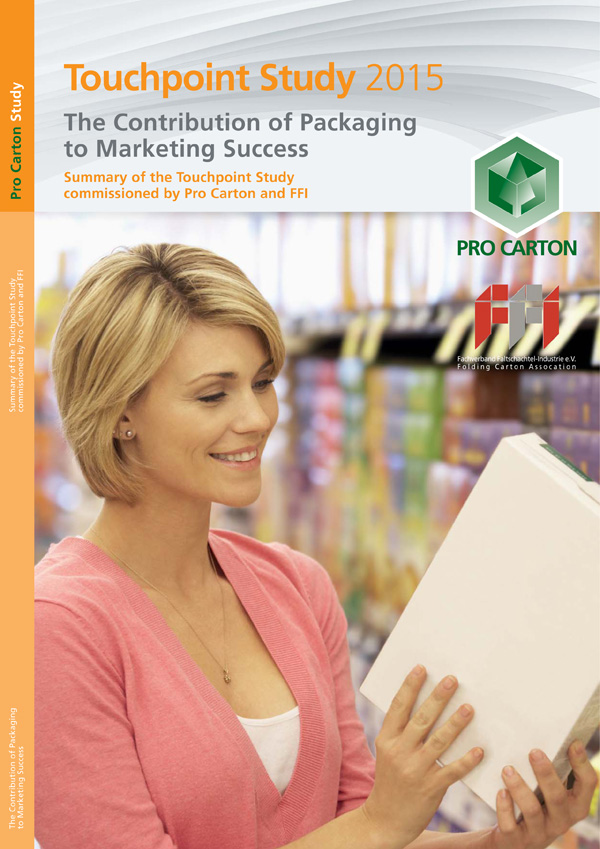 Estudio Impactos
Con el estudio, el primero de su tipo en todo el mundo, la Asociación de Marketing Europea Pro Carton y la Asociación Alemana de la Industria del Envase de Cartón han hecho los honores. El estudio Impactos 2015 demuestra la alta frecuencia de impactos del envase y embalaje y ofrece cifras de sus posibilidades para el marketing.
---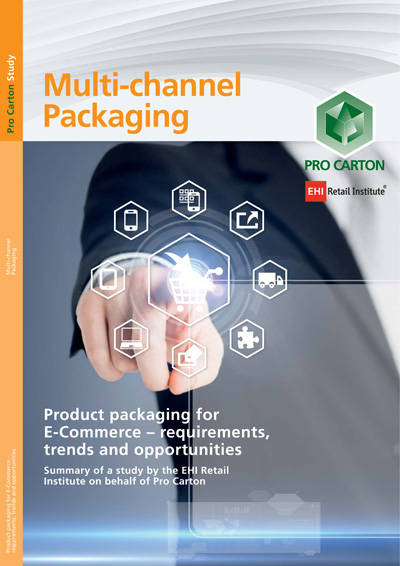 Multichannel Packaging
Desde una perspectiva estructural, el multicanal cambió profundamente la situación para los comerciantes, con un impacto inevitable para el envase de cartón. Es por este motivo que Pro Carton encargó el EHI Retail Institute llevar a cabo un estudio titulado " Envases de cartón Multicanal: Los envases de cartón de los productos en el comercio electrónico - requisitos, las tendencias, el potencial." Para el 80% de los comerciantes, los envases de cartón son el futuro del embalaje.
---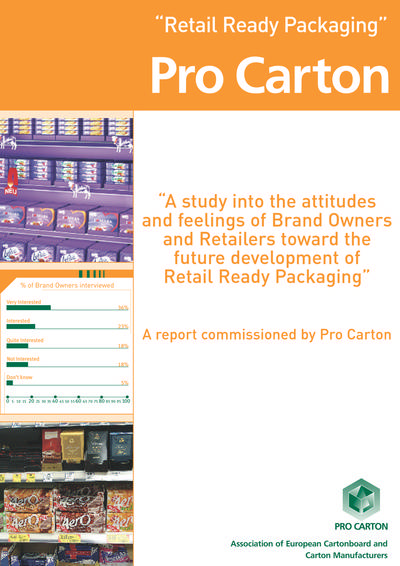 The Retail Ready Packaging report
This report summarises a study into the attitudes and feelings of both retailers and brand owners toward the future development of RRP. It looks at the satisfaction with current RRP and also at the views on what improvements are required. Printed copies are available from your local Pro Carton office or you can download a copy.
---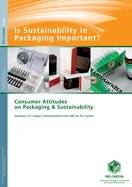 Estudio de Pro Carton: ¿Son importantes los envases sostenibles?
Actitudes de los consumidores sobre los envases y la sostenibilidad: un nuevo informe, encargado a GfK por parte de Pro Carton, muestra claramente que la sostenibilidad en los envases es importante y que los consumidores están interesados y preocupados por este tema. Más del 64% de los encuestados expresaron que los envases deberían estar compuestos por materiales respetuosos con el medio ambiente y a más del 55% les pareció que los envases deberían contener la menor cantidad de plástico posible.
---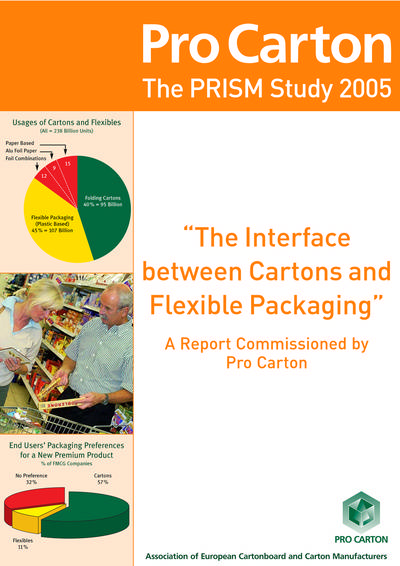 Prism Report
This report commissioned from Prism by Pro Carton looks at the interface between Cartons and flexible packaging. It covers such aspects as the current markets, expectations for the future and the perceptions of both brand owners and retailers regarding these different packaging materials.
---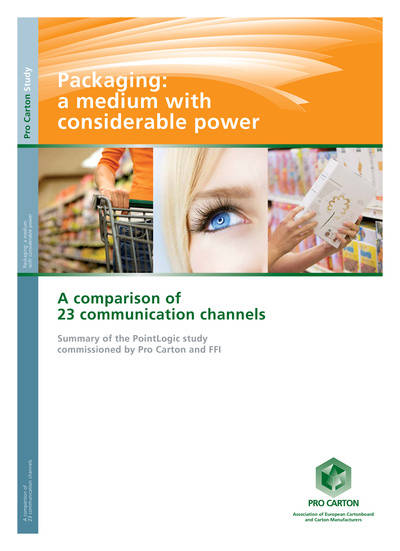 Los envases: un medio con considerable poder
Un estudio reciente "Los envases: un medio con considerable poder ", compara la eficacia y el alcance de 23 canales de comunicación. El estudio fue encargado por Pro Carton y la FFI y llevada a cabo por Pointlogic Consultores Internacionales de medios de comunicación. Por primera vez existen datos reales: los envases de cartón no solo son envases, también son un instrumento de comercialización por derecho propio y un canal de publicidad como la televisión, los medios impresos o Internet.
---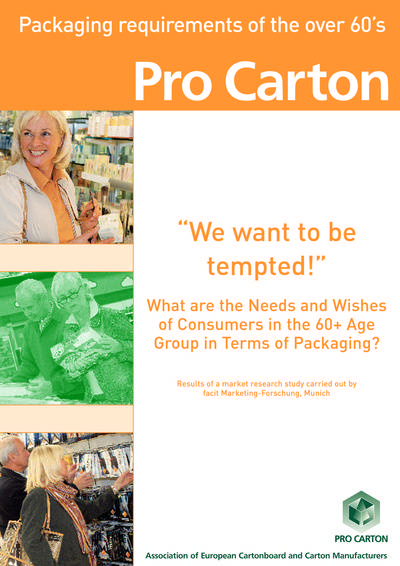 Packaging Requirements of the over 60's
This publication looks in detail at the packaging requirements and needs of the over 60 age group. Detailed market research was undertaken on behalf of Pro Carton to establish the likes and dislikes in terms of packaging of this growing sector of the population.
---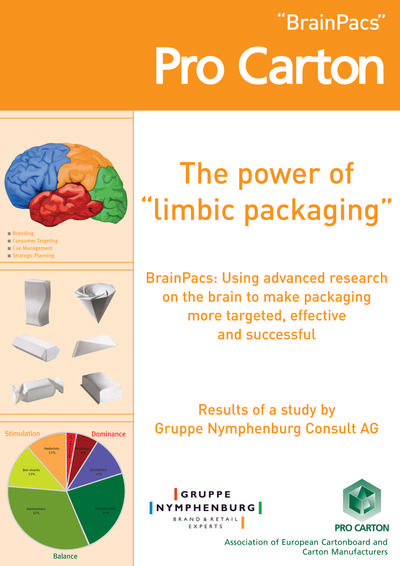 Limbic packaging report
---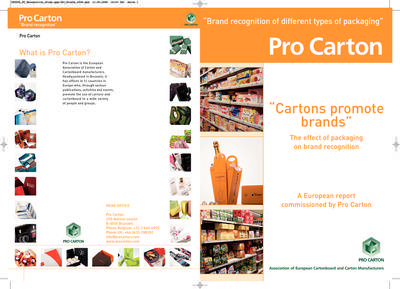 Cartons promote brands
A report on this study was launched in March 2008. It looks at recognition speeds at the point of sale of different types of packaging and the study was conducted in 6 European countries.
---