2021-09-06
Recibimos más de 640 entradas para el Premio Pro Carton a Jóvenes Diseñadores este año y, por primera vez, estuvieron representadas más de 100 universidades. Además, en el marco del premio Pro Carton, diez países también están otorgando premios nacionales que subrayan el gran atractivo de la competencia.
Horst Bittermann, presidente de Pro Carton, dijo: "Este año, la asociación con las universidades y colegios de diseño europeos se ha intensificado de una manera que superó todas las expectativas. La creciente confianza depositada en el Premio Pro Carton a Jóvenes Diseñadores por parte de las instituciones educativas es muy apreciada y reafirma que la competencia, y lo que representa, resuena con tanta fuerza en el mundo académico ".
Se anunciaron cinco premios, más el Premio del Público, en el los Premios del Envase de Cartón 2021 el 6 de septiembre.
El premio Save the Planet fue para Emily Kearns del Reino Unido por su "Roll-Up Selection Box". El "Roll-Up" es una versión ingeniosa de su caja de selección navideña habitual, que desafía la enorme cantidad de envases que se utilizan en las cajas tradicionales e inyecta algo de diversión. El paquete se desenreda para revelar los chocolates que se mantienen en un tejido en un solo lado del cartón. El diseño decorativo del interior se puede modificar para adaptarse a diferentes rangos de edad.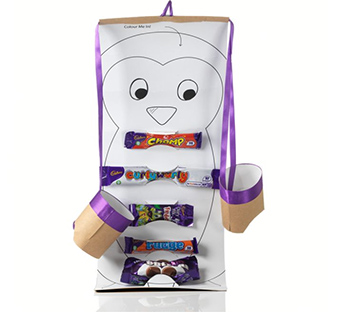 Roll-Up Selection Box

El ganador de Creative Cartoboard Ideas fue Senni Virransola de Laponia con "Eco Seal bread bag closer", una forma innovadora y ecológica de mantener una bolsa de pan cerrada y el pan fresco. Mantiene la abertura de la bolsa firmemente por medio de un diseño de reborde triangular que está encerrado por dos lados de cartón. Un mecanismo de cierre empuja a través de un orificio en un lado, manteniendo "Eco Seal" juntos.
Eco Seal bread bag closer

La categoría de Creative Cartonboard Packaging fue ganada por Raúl Adame, Pol Delgado, Ester Martínez y Marc Calvo de España por su "Argán Oil Pack". Este envase ha sido diseñado para proteger la botella de Aceite de Argán en tránsito, permitiendo que el producto se entregue por correo. La mochila cuenta con un sistema de protección compuesto por bolsas de aire.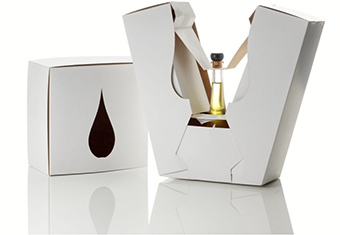 Argan Oil Pack

El ganador de Creative Cartonboard Packaging – All Other fue "Frame it" de Kristina Scheld y Farina Nagel de Alemania. "Frame it" ofrece un empaque protector completo para sus marcos de fotos y varias funciones útiles para ayudarlo a colgar sus marcos perfectamente cada vez, con el mínimo esfuerzo. El paquete cuenta con su propia regla. Una vez colocado correctamente, un punto central resaltado marca exactamente dónde debe colocar la uña.
Frame it

El premio Best Newcomer, otorgado a un estudiante de una universidad que no había ganado antes, este año fue para Luisa Maldaner de Noruega con "Herbix 1-2-3". El paquete cabe naturalmente en su mano y tiene tres niveles de dosificación diferentes para que le resulte más fácil condimentar su comida. Este nuevo diseño incorpora un mecanismo de empuje fácil que se desliza hacia arriba para verter una dosis variable de su mezcla de especias favorita y luego se desliza fácilmente hacia abajo nuevamente para asegurar el paquete para un almacenamiento seguro.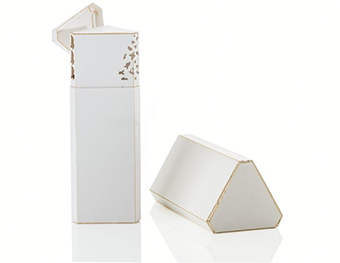 Herbix 1-2-3

El Public Award lo ganó Amanpreet Kang, de la Northern School of Art del Reino Unido. El envase está diseñado para el Velveteen Rabbit Luncheon Club, que hornea y vende golosinas de lujo. El capullo de la flor florece cuando se abren los pétalos, revelando con gracia bandejas apilables de delicias.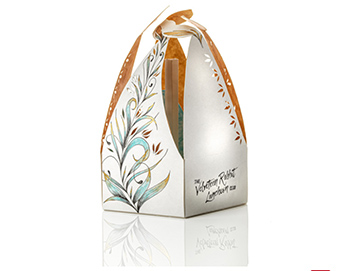 The Velveteen Rabbit

Como parte de su premio, los jóvenes diseñadores ganadores pueden esperar un viaje a Austria para visitar una fábrica de cartón y papel MM y MM Packaging, el principal productor europeo de cartón. El ganador del Public Award recibe un iPad.
Los finalistas:
Fillær, by Kim Bujak, Giulia La Spina and Suh-Kyung Choi
Keyminder, by Jonas Riedel & Maureen Lantinga
Woolen Yarn Pack, by Marta Simon
Pencil Organiser, by Nadya Dzhugan
Holdie, by Fazıla Müberra Kaya
Konditorei Reschinsky, by Lena Gundacker
---
Pro Carton members, patrons, partners