Advertising
Cartons are part of the advertising mix for products as they are displayed at the point of sale – in the shop as well as on the internet. It is estimated that about 75% of purchasing decisions in store are made right in front of the shelf – so a carton can help ensure that a product is seen and then purchased. In a survey with both consumers and experts, it was established that packaging was seen to be the most effective form of advertising to persuade consumers to buy a product again.
Brand recognition
Cartons have a high quality image, offer strong shelf impact and are highly regarded by the consumer. Innovative shapes and interesting print finishes combine to offer instant attraction and ensure brand recognition is maximised. The graph below shows what percentage of respondents correctly recognised the brand at differing time periods. It can be clearly seen that the product packed in a carton was recognised much faster by more people than the product packaged in plastic.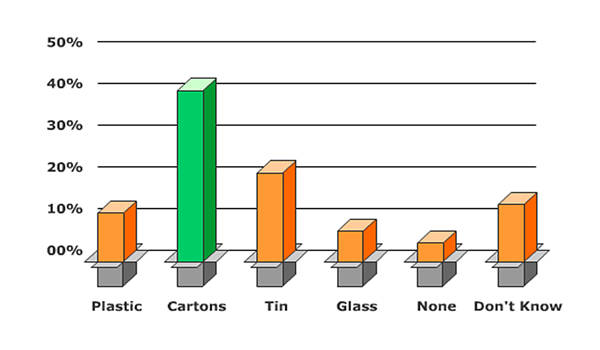 Consumer appeal
Cartons and cartonboard are well liked by consumers and in a study by the Karmasin Institute, it was found that cartons have a reliable and safe image. In addition, a further study showed that elderly people, who now account for a much larger proportion of consumers, found cartons much easier to recognise, open and use than other forms of packaging. Cartons project quality and consumers then tend to relate this to the product so giving carton packed products a better chance of success.
Consumer favourite
Consumers like cartons. They trust them and find them easier to use than other forms of packaging. In addition they are easy to crush and recycle and cartons have an excellent record with facilities in place all over Europe to recover them and return them for recycling. And consumers regard cartons as eco-friendly: Market research carried out by Audience Selection showed that consumers consider cartons to be the most environmentally friendly packaging option. Studies have shown that consumers like the feel of cartons and value their environmental credentials.
The graphics of a folding carton can provide a co-ordinated link reinforcing other media promotion of the brand by the brand owner through newspapers, magazines and television. Packaging is almost as popular as television as a means to promote the brand and packaging is best for stimulating repeat purchases. Cartons are-well known and liked by consumers and elicit a warm emotional response.
Information
With an ever increasing amount of information on packaging, cartons are best placed to provide clear and easier to read information than other packaging. This particularly appeals to the over 60 age group who wish not to have anything special done for them but would like to be able to use conventional packaging. Cartons deliver on this. They also offer excellent brand visibility which is helpful to all shoppers and also to the brand owners and retailers.