Beverages
Winner
Veuve Clicquot (tricky box)
Name of Entry:
Veuve Clicquot (tricky box)
Entrant: Brand Owner:
Champagne Veuve Clicquot Ponsardin
Carton Converter:
Cartografica Pusterla Spa
Structural Designer:
Development Team Cartografica Pusterla
Graphic Designer:
Veuve Clicquot Ponsardin
Cartonboard Manufacturer:
Iggesund Paperboard
Jury comments
Whilst a champagne carton that doubles as an ice bucket is not new, the Judges felt that this entry took the concept to a new level. The clever construction, particularly of the top that when removed opens the carton fully and so makes it easy to pour in the ice, was felt to be an improvement over other similar types of carton. Also the very high quality of the print and graphics made the carton very appealing and would attract consumer attention mainly as an impulse purchase.
Finalists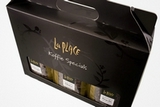 Acket drukkerij kartonnage b.v.
Name of Entry: Acket drukkerij kartonnage b.v.
Carton Converter: Acket drukkerij kartonnage b.v.
Name of Entry: Van Genechten Packaging
Carton Converter: Van Genechten Packaging