Confectionery
Winner
After Eight 333g Geschenkverpackung
Name of Entry:
After Eight 333g Geschenkverpackung
Carton Converter:
E. Gundlach Verpackung GmbH
Brand Owner:
Nestlé Erzeugnisse GmbH
Structural Designer:
E. Gundlach Verpackung GmbH
Graphic Designer:
Klis Design
Cartonboard Manufacturer:
Stora Enso
This entry is printed in 6 colours on the front with dispersion lacquer and 2 colour on the reverse – the cartonboard used is Neocart from Stora Enso. The inks used were specially chosen to ensure no interference with the quality of the chocolate and the carton is machine erected and filled with the lid being placed on manually.
Jury comments
Surprise was the key element recognised by the Jury. The gift package takes up only a little space yet when opened creates an attractive and simple means of dispensing the chocolates. It can be opened and closed repeatedly and even with one or two sections empty the opening system still works well. The Jury felt that this design brought a new dimension to this well established brand.
Finalists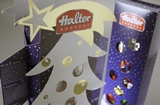 Läser AG, Grafisches Unternehmen
Name of Entry: Läser AG, Grafisches Unternehmen
Carton Converter: Läser AG, Grafisches Unternehmen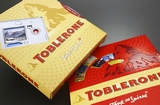 Name of Entry: Model PrimePac AG
Carton Converter: Model PrimePac AG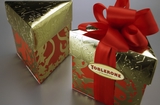 Name of Entry: Model PrimePac AG
Carton Converter: Model PrimePac AG