Food
Winner
Coco Pop Creations
Name of Entry:
Coco Pop Creations
Entrant: Brand Owner:
Kellogg
Carton Converter:
Mayr-Melnhof Packaging Austria GmbH
Structural Designer:
Pac Project / MMP
Graphic Designer:
Kellogg
Cartonboard Manufacturer:
Mayr Melnhof Karton & Iggesund Paperboard
Jury comments
The Judges had never seen a similar type of presentation for cereal products and felt that this was a new and striking design. They felt that it would especially appeal to children as the new shape will make it stand out on the shelf. Also the graphic design has been cleverly done to provide continuity from box to box. In addition the flip top lids are easy to open and close and will maintain the product in good condition after the first opening. The tall thin shape also makes for easy handling particularly for children.
Finalists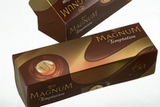 Name of Entry: Van Genechten Packaging
Carton Converter: Van Genechten Packaging