In general, packaging has a major role to play in resource efficiency by protecting goods and thus conserving more resources than it uses. For cartonboard packaging, innovations in the carton itself, such as improving the sustainable characteristics of the pack and the choice of packaging material, are significant factors in the efficient use of resources. And at the end of life, the possibility to recover and recycle the used cartons saves resources.

Life cycle thinking is clearly at the heart of Resource Efficiency and how this applies to cartonboard packaging is illustrated in the chart below.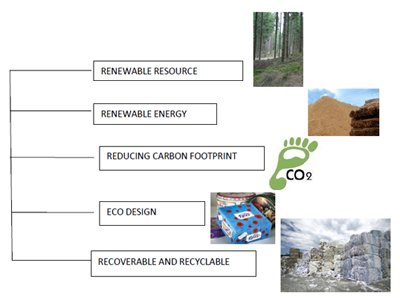 Pro Carton's Resource Efficiency website covers sections on Raw Material Use, Renewable Natural Resource, Water and Carbon, which explain the steps illustrated in the chart. More details of relevance to cartonboard packaging will be added to these sections as they become available.
Ensuring efficiency through the value chain is also crucial and packaging is key to protecting the resources embedded in the manufactured goods. This is especially true in the food industry, where dealing with the issue of Food Waste and wasted resources is becoming a priority. Packaging, including cartonboard packaging is part of the solution.
To visit the Pro Carton Resource Efficiency website : http://resource-efficiency.procarton.com
CEPI Sustainability Report 2011
A useful overview of the total European Paper Industry's Sustainability record can be found in the new Sustainability Report 2011 issued by CEPI (Confederation of European Paper Industries). A pdf can be downloaded at: www.cepi-sustainability.eu

Key achievements include:
69% = the European Recycling Rate (ratio between the recycling and the consumption of paper). This is a world record
94% of water used by the industry is returned to its source
14% reduction in energy consumption since 1990