At the beginning of the congress, Olaf Hartmann, Acting Partner of the Multisense Institute, gave the approximately 200 attendees a brief overview. Based on mankind being multi-sensory beings he underlined: "The minute you have a product which you can touch, or sales rooms, an exhibition booth or a sales force with personal contact, you automatically send out signals on all sensory channels – consciously or unconsciously. However, the question is whether these signals are designed in your favour or not."
Multisensory Marketing
The keynote was given by Christian Scheier of the decode marketing consultancy, who develop marketing strategies for renown brands based on neuropsychology. He underlined that most decisions are made subconsciously on the basis of sensory impressions. In essence: "Perception beats thinking!"
He also stressed that the brand senses must not be defined separate from each other, but must be integrated – corresponding to human perception. Both the "pilot" – the conscious argumentation at the explicit level – and especially the "autopilot" – intuition at the explicit level - need to be taken into account. Only when synchronised, do the sensory messengers result in an "efficacy booster".
Scheier further demonstrated that the eye only dominates at the beginning of a product experience – to be surpassed after only one week by tactile factors. Surprisingly: smell and taste generally play a subordinate role through each phase of product experience.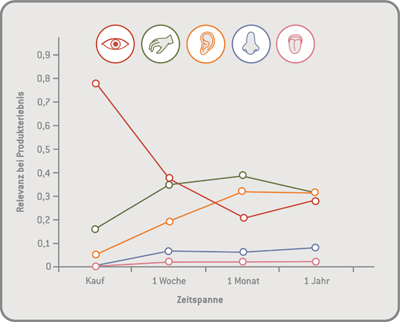 Relevance of sensory channels on experiencing a product, 1 week, 1 month, 1 year after purchase (Christian Scheier, decode implicit marketing).
Implicit brand coding
How to define and implement sensory signals appropriate to the target groups and in a mutually reinforcing manner, was the major topic of the 15 workshops. The spectrum ranged from product development and design via sound-branding, fragrance marketing, packaging, POS architecture and live communications to multi-sensory copy, sales, brand and patent rights as well as addressing target groups along neuroscienctific principles.
One thing was perfectly clear: it is becoming more and more important to code brands implicitly. The structural and graphic design of a packaging must be able to transport the brand message without a logo. And the more of the five senses involved, the better. Nonetheless, visual and tactile factors play first fiddle for direct product contact.
Comments Roland Rex, president of Pro Carton: "This is where cartonboard can really score. Cartonboard packaging can be designed with flexible structures, brilliant graphics and extreme versatile tactile approaches – cartonboard can contribute decisive brand design features well beyond simply logos and colour codes."
Source: www.multisense.net