We call it "Going Public": in its 16th year, the Award will be open to all partners in the supply chain. What used to be a competition for the cartonboard and carton industry has now become a competition for all partners in the supply chain, and thus, for everyone involved in developing packaging.


Not only the members of Pro Carton – the cartonboard and carton manufacturers –, but also the manufacturers of branded goods, the retail trade and designers can, as of now, enter "their" packaging. Pro Carton would like to open the competition to all relevant partners in Europe and involve them more in the Award, but especially in communicating the message that cartonboard is not only a sustainable medium but also a successful marketing instrument.

The Pro Carton/ECMA Award is the stage where Europe's best cartonboard packaging is presented and generates positive public awareness for the entire industry. This is amply demonstrated by the response to the Award website and the Pro Carton press releases. The European press has published numerous articles on the event. The basis for this tremendous success is the extensive marketing package that Pro Carton has created for the Award, all participants, and especially the winners and finalists:
Presentation of awards at the ECMA Congress in September 2012 in Copenhagen
High-quality images of all entries
Videos on the judging of the jury in each category
E-News to 8,000 contacts in Europe: brand owners, retail trade and designers
Press releases to key media in the supply chain in 22 countries
Publication on the websites www.procarton.com, www.procartonecmaaward.com, www.ecma.org
The winning cartons will be inlcuded in alternating presentations on www.procarton.com
Award brochure with all winners, finalists and entries in English language

all winners with success story and comments by the jury
all finalists with brief description

All the news and the Award brochure are published in 5 languages on www.procartonecmaaward.com: English, French, Italian, German and Spanish
Awards for the winners, certificates for the finalists
Roadshow with the winning cartons and finalists at exhibitions, congresses, events etc. throughout Europe
Enter your best cartons now – at www.procartonecmaaward.com!
The more dedicated the members in the supply chain are with their entries, the more effectively the Award can be utilised as marketing platform for each entry, and the more prominent the efforts of the participants can be presented.
Entry form (PDF) and online submission in five European languags (English, German, French, Italian, Spanish) at www.procartonecmaaward.com. There are eight categories for entry.
Deadline for entries: 8. June 2012
Presentation of awards: ECMA Congress, Copenhagen, September 2012
Contact:
Pro Carton
Suzanne E. McEwen
T 0043 676 424 46 37
E mcewen@procarton.com
W www.procartonecmaaward.com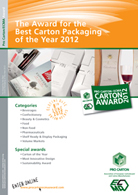 Pro Carton/ECMA Award 2012 call for entries