1. Barilla was founded in 1877 and is being run by the Barilla family in the 4th generation – what have been the most important/key steps in their development?
Our story begins in 1877 in Pietro Barilla's bakery and pasta shop, in the center of Parma, Italy. Over the last 130 years, events, people and business acumen have transformed that small shop into one of the largest food manufacturing companies in Italy and all of Europe, making Barilla the world leader in pasta. This is the story of a family of entrepreneurs, who have run the company with whole-hearted enthusiasm and a firm and steady hand. The founder was succeeded in the early 1900s by his sons Gualtiero and Riccardo. In 1910, they opened the company's first factory, employing 100 workers and producing eight tons of pasta a day, and registered their first trademark: a boy cracking a giant egg into a trough of flour. But it was not until Pietro, Riccardo's son, joined the firm in 1936 that the company's commercial expansion really began. In the mid-1950s, Barilla was the first mass-market company to advertise through the new medium of television in Italy.
In the 1970s, while Barilla was temporarily under the control of the American Grace company (1971-1979), important decisions were taken: the acquisition, in 1972, of the Altamura mill, marking a move into the milling business, and the acquisition in 1973 of Voiello. 1975 saw the launch of the Mulino Bianco brand, which quickly gained a large market share in the bakery products sector. The historic re-acquisition of the company by the Barilla family coincided with a return to a long-term strategy and a new phase of investment, based on the idea of relaunching pasta and the "Italian Meal solution", and expanding the company's range of bakery products. This confirmation of Barilla's original vocation was accompanied by new advertising strategies, intended to overturn the old prejudice of pasta as the "poor man's food".
In 1993, when Pietro died suddenly, he was succeeded by his sons: Guido, Luca and Paolo. This was a crucial phase in Barilla's international expansion, with the establishment of foreign subsidiaries such as Barilla America, a series of targeted acquisitions and the construction of new production plants. In 1991, Barilla acquired Misko, the leading Greek pasta-maker; in 1994 Barilla also acquired the Swedish Wasa company, the world leader in crisp breads. In 2003, Barilla acquired Harry's, market leader in France's packaged bread sector.
As early as 1997, a company known as Number 1 Logistics Group had been set up to make the most of Barilla's experience in the logistical aspects of distribution. 2004 saw the foundation of Academia Barilla, an international centre for the dissemination of Italy's gastronomic culture. In 2007, the company's second US pasta factory was inaugurated at Avon (N.Y.). Barilla, which is already the market leader in America, with a share of 27%, is aiming even higher: the new plant is capable of producing 100,000 tonnes of pasta per annum.
2. Barilla started business in a small pastashop in Parma and now produces 4.000 tons Pasta in 120 different varieties daily – what is the secret?
Without a doubt, Pietro Barilla's ability to understand and anticipate the future played a major role, allowing the small family company to grow into a business of international renown. The business values and culture which he transmitted to his children by example are still there to be seen. Barilla is an Italian and family business which interprets eating as a time of joy, full of taste, affection and sharing, with top-quality products which are both good and safe. The secret is in this inheritance and in the enthusiasm and passion of the daily work of some 16,000 employees. Today, Barilla is marketed in a 150 countries, from Italy to New Zealand, from the US to Qatar.
3. Barilla has around 20 different brands – what role do cartons play? And what does Barilla link with cartonboard as preferred packaging material and it´s potential as sales packaging at the POS?
The cardboard box, for both historical and environmental reasons, is the elitist choice in terms of packaging, mainly for our Pasta Barilla. There are three main benefits which lead to the choice of the box as our preferred packaging material, as well as the undeniable historic link with the brand:
- high level of service for retailers, with fixed facing and orderly shelf management
- high level of service for people in general, through easy-open systems and recloseability, and orderly kitchen storage management
- broad structural design range.
4. Nowadays everybody recognises Pasta from Barilla by it´s blue carton with the window. How long has this packaging existed? Do you have any research figures on recognition of your packaging?
The blue packaging started in 1954. We do have figures, but we do not disclose them. Generally speaking, the blue box is an equity asset for the brand, and the box and the blue colour are acknowledge by consumers as the key differentiating elements on shelf, always quoting the Barilla "blue wall" on point of sale.
5. How important is sustainability for the Barilla Group in general and in terms of packaging?
Thanks to a special LCA [Life Cycle Assessment] tool, we are now able to account for the environmental impact of our packaging as early as the design and development stage. Product and packaging are designed at the same time, in order to obtain greater efficiency in terms of both functionality and sustainability. In addition, we have started to gradually eliminate non-ecocompatible components (inks, printing aids and other materials) and we put the priority on using homogeneous packaging materials which are easier to recycle. For pasta, comparisons have been made between boxes made of all cardboard and plastic film (polypropylene). It was discovered, among other things, that paper-based packaging has less impact in terms of CO², if we also consider the biological CO². Barilla was the first Italian big-brand company to include instructions on how to dispose of its packs on the packs themselves, so that consumers know into which differentiated waste collection recipients to throw their packs.
Our approach, whether we talk of packaging or in general, is to express corporate responsibility in the context of the overall sustainability of the system, through strategies that are aimed at developing production processes, products and results that focus on people's well-being and environmental protection. It also implies publicly undertaking responsibilities in full view of stakeholders and implementing the consequent actions. We are not the first to commit to social responsibility. Many companies have already made efforts to improve the social and environmental impact of their activities, though not always with positive outcomes. In certain cases, in fact, the approach selected failed to align the contrasting interests of business activities and the dynamics of civil society, underestimating their links and interdependence. Sustainability policies should be part and parcel of corporate identity and strategies. Fragmented and random approaches result in simple philanthropic activities or merely defensive policies that carry no benefits for competitiveness and no significant impact on society. Barilla believes that companies and society need each other, and a temporary advantage for only one of them may jeopardize the long-term wealth of both. Barilla, our company, has always been aware of people's basic needs, giving rise to great potential for contributing to the improvement of everyone's life and well-being.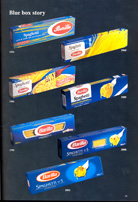 The Development of the legendary Blue Box.